Entretien avec
Gill Van Wagoner
Existe aussi en Version Française
---
Very strongly-inspired by John Boorman's Deliverance, Savage Water (1979) is a cheap, painfully slow-paced, but somewhat funny whodunnit about a group of river rafters being stalked and butchered by a mysterious killer. Just like the equally disarming Wendigo (1978), Savage Water bears the unique style of its maker, the late Paul Wesley Kener. It's one of these obscure little movies that make you want to know more about their making. A few years ago, we had the opportunity to talk a bit with Gill Van Wagoner, one of the main characters in the film, and collect his insights. Let's be honest: there's no extraordinary amount of information contained here. Yet, the testimonies about Savage Water are so rare that we chose to publish it anyway.
Interview conducted on December the 9th of 2016 by John Nada.
---
How did you find yourself working on Savage Water?


Gill Van Wagoner, playing the part of Dave Savage.

In the early 1970's, I was blissfully President and CEO of Mount Aire International Productions, a motion picture production company, and Vice President of Advertising and Public Relations of the Utah Stuntman Association. Mount Aire was on the verge of swinging into production of a comedic take on the Viet Nam war. We had the majority of financing in place, when all the money disappeared. Our director of finance out of Scottsdale, Arizona disappeared along with the money. As a corporation, we were advised to declare bankruptcy and so Mount Aire International Productions disappeared.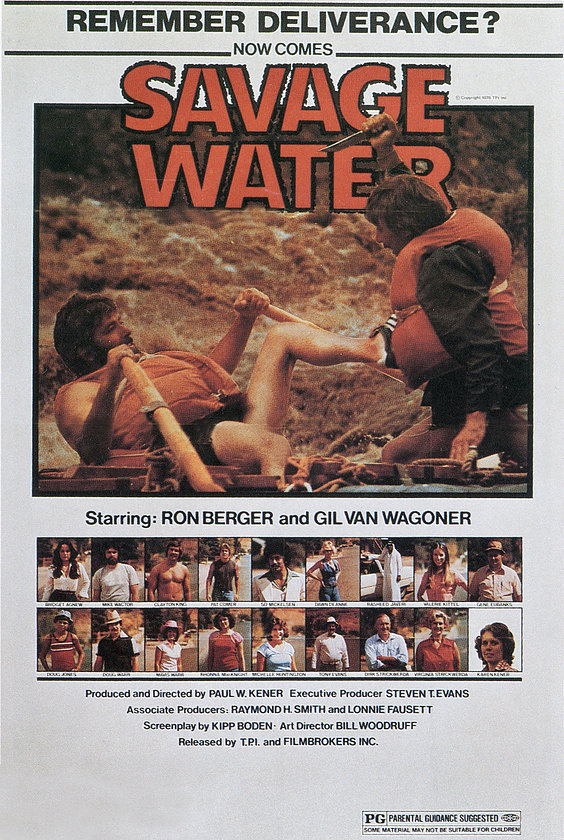 The Utah Stuntman Association needed work so I met with most of the film people in Utah trying to pick up work. I had previously met with Paul Kener on another project in which he had used a member of the Stuntman group [Nanarland: possibly The Streak Car Company (1974) or Wendigo (1978)]. I had heard he was about to do another picture and offered our services. As I met with him, I inquired about using The Utah Stuntman for his movie. He indicated that he did not need any, but was looking to cast his lead in Savage Water and suggested I was exactly who he was looking for. He then offered me the role. After a lengthy discussion on his picture, I accepted the role. A month or so later, I found my self standing on the banks of the Colorado River near Moab, Utah.
Arleen Farrell putting make-up on Gill Van Wagoner on the set of Savage Water.

Could yo tell us a bit about the rest of the cast? What memories do you have of them?

The cast was quite a group of unusual characters. We had a retired banker, the Director of the Utah Democratic Party, single moms, a precious gem dealer and even some we knew nothing about.

Clayton King [Nanarland: who played Mike], a bodybuilder, was about as nice of a guy as there could be. He was the practical joker, extremely outgoing and sociable.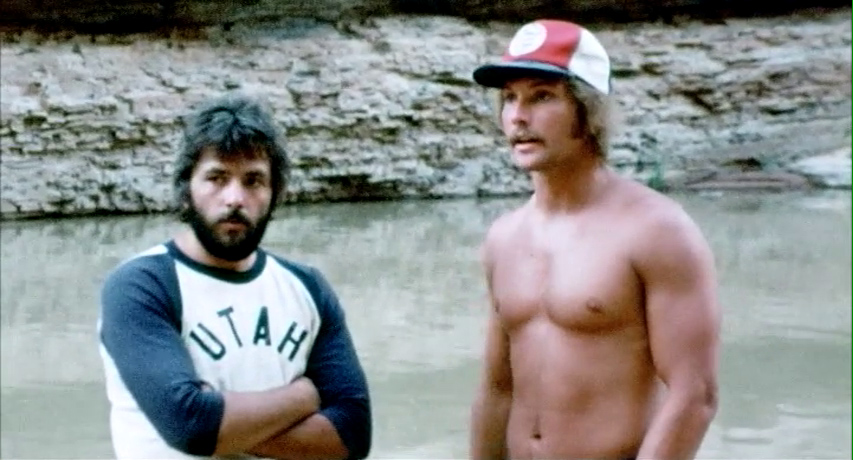 Gill Van Wagoner (as Dave Savage) and Clayton King (as Mike).

Flirt Mike Wactor [Fry] was the kind of man who would help anyone, all with a smile.

Bridget Agnew [JoAnne] was a woman that could make anyone happy.


Bridget Agnew, as JoAnne.

I remember Ron Berger [Doc Rogers] as a man who instantly had concern for anyone he would meet.

Pat Comer [Darrell] was another bodybuilder who was just achieving maturity.

Rasheed Javeri [Mahomad], who reminded me of one who just stepped of the boat, was so naive in most everything. Every time we would float through a rapid, he would sit in the middle of the raft, wind himself up in the tie down ropes and scream "Oh my God. We are going to die!" over and over again.

Dewa DeAnne [Susie] - just look at her.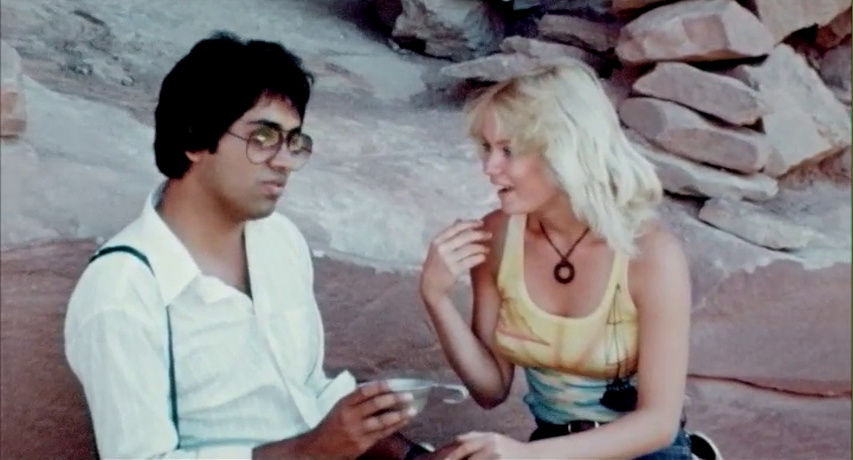 Susie (Dewa DeAnne) flirts with Sheik Mahomad (Rasha Javeri) over a drink of Brandy:
« - Now I'll buy you all this Brandy in this world because you're the first woman to hold my hand.
- You never had a woman hold your hand before?
- No, I don't have any sister. »

Valerie Kittel [Rhonda] – I thought she dripped with sexuality.

So Mickelsen [Ivy] was of Polynesian descent, and he made me want to move to the islands. He could be a friend to anyone.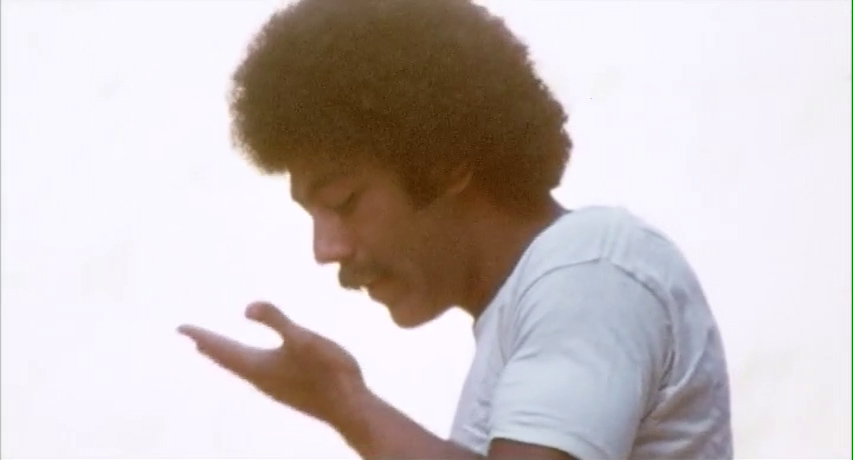 So Mickelsen, as Ivy. Described in the film as the « first black (man) ever to go on (this) river trip », his character is predictably the first to go, being pushed off a cliff by the mysterious killer.

Doug Warr [Leo] was a quiet man who you knew had a power rolling inside him. [Nanarland : it's also him who composed and sang Savage Water, the theme song of the movie]

Doug Jones [Dean Farris], the kid, was exactly the same off screen as on screen.

Gene Eubanks [Doug Farris], who played his father in the film, was a very quiet man.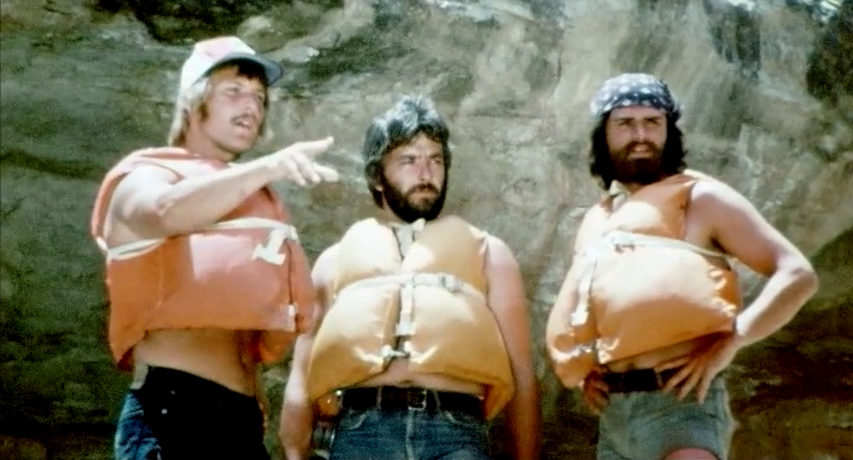 Clayton King (as Mike), Gill Van Wagoner (as Dave Savage) and Mike Wactor (as Fry), discussing endlessly about what to do next.

How did the shooting go?

We shot during the summer of 1978. Floating through the red rocks of the Colorado River was beyond words. The first night on the river as we made camp, I teamed up with Clayton King. As soon as we laid out our sleeping bags, we found that we had disturbed the privacy of a four or five foot long Diamondback Rattlesnake. He disappeared into the rocks regardless of Clayton's complete inability to destroy him. I slept carefully that first night. [Nanarland: note that in the movie, the killer slips such a snake in the sleeping bag of young Dean, who gets bitten. Maybe that scene has been inspired by the anecdote Gill Van Wagoner is telling us about.]


An Eastern Diamondback Rattlesnake [photo by Paul Sutherland for National Geographic]

I watched the professional boatmen who took us down the river. The characters in the film, in charge of the rafts, were clearly modeled after them. We spoke like them, even looked like them. In fact screenwriter Kipp Boden was an actual Utah river-runner himself.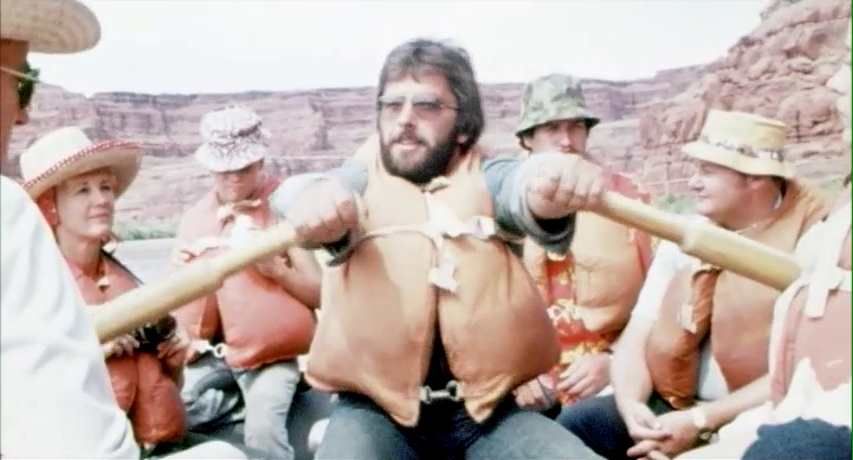 The shooting was not always easy. As we stood in the Colorado River, there were little fish that would suck on our legs and there were little bugs that would bite us, and a small blister would form where we were bitten and when popped, the skin at the site of the bite, would not tan. Yet I do not remember anyone of the cast ever whining or complaining about the conditions we were in. In fact of all the films I have worked on, I never had the camaraderie like we had on the set of Savage Water.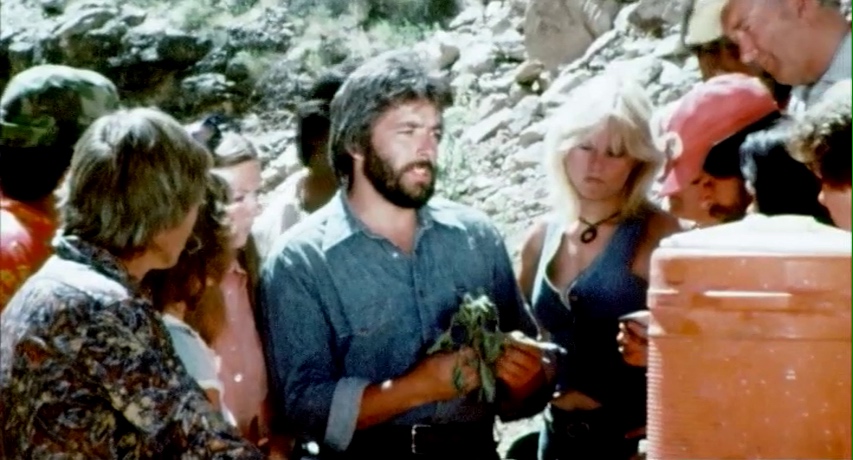 Dave Savage warns his audience against the dangers of Datura, the devil's weed. A crooky way for director Paul Kener to fill in a few more minutes of film, and painfully reach one hour and a half.

What do you think of Savage Water as a film?
Early on, I was concerned that Paul Kener was shooting in 16mm when he had told me he was shooting in 35 mm. Savage Water had a reported budget of $500,000 and he said they couldn't afford to shoot in 35mm. I have never liked the results or texture of the 16mm film. We spent about two weeks on the Colorado River. We returned to Murray, Utah to finish some interior shots. And then we waited.

I have talked to all the cast since the filming of Savage Water, and all have the very same comment and complaint: Paul Kener never paid any of us.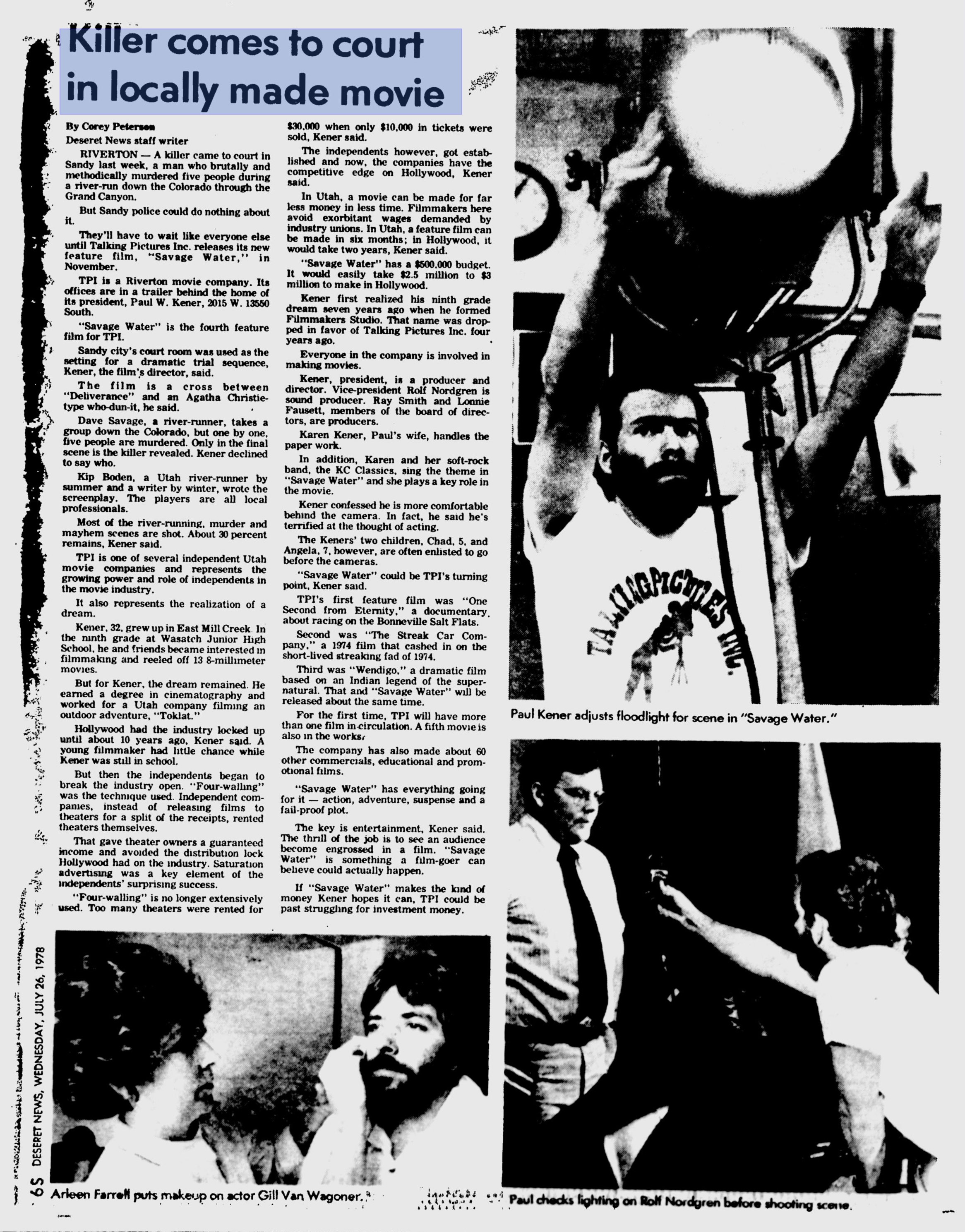 An article about the film published in the local paper "Deseret News", July 26 1978 (Right-click and Open Image in New Tab to see it properly).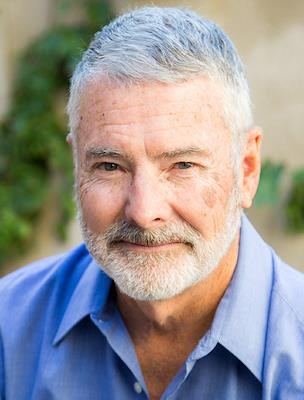 Director Paul Wesley Kener (a.k.a. Paul Kiener), who died from cancer July 18 of 2020.

I have to say I felt quite bitter after doing another business adventure with Paul Kener and producer Raymond H. Smith [Nanarland : producer on Wendigo and Savage Water]. It was a project on the serial killer Ted Bundy called The Obsession of Ted Bundy. I wrote the script, did all the research and was to be second director. The name of the company it was going to be filmed under was Western International Pictures. Which Paul Kener managed to convince me to be President of so I would suffer all the financial blows, which I did after he and Raymond Smith disappeared and left me to deal with the IRS. They were dishonest and made me lose a lot of time and money. Although it was a good learning experience, it soured me about the industry and I wanted nothing to do with the dark side. So after that I just dropped out of the industry completely.



An article about The Obsession of Ted Bundy published in the Floridian paper "The Palm Beach Post", March 11 1984.

The last I heard from him was around 2014 when, out of the blue, Kener showed up at my house. I was not home but my wife answered the door. He gave her a copy of Savage Water on DVD, still grainy, and told her he wanted to contact me. He gave her his phone number. I did call him just to see what he wanted. He told me he was living in Palm Springs and getting ready to launch a new production called The Gold of Cataract Canyon. He wanted me to be involved, but I strongly declined. Paul didn't know how to tell a story on film, and I believe that was why he wanted me in on it. But he had burnt me too many times. Paul did have a silver tongue, the problem was it was forked...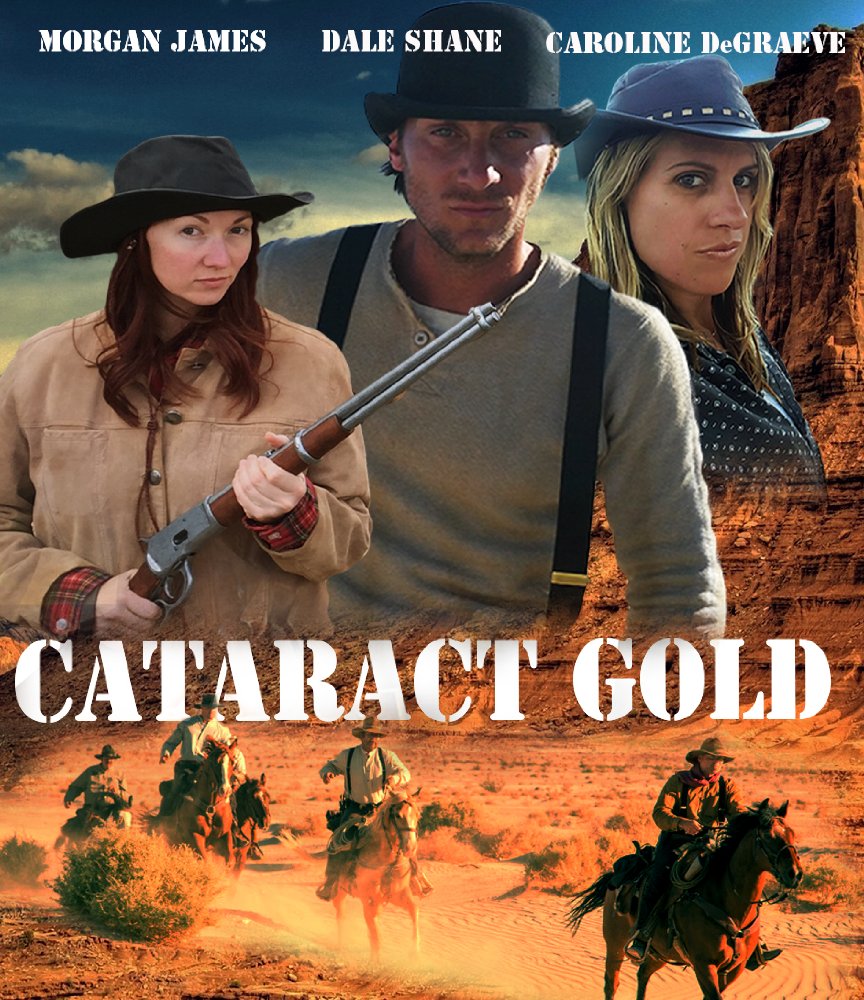 Cataract Gold (2017), the very last film written, produced and directed by Paul Kener.

- Interview menée par John Nada -