Entretien avec
Don Gordon Bell
Existe aussi en Version Française
---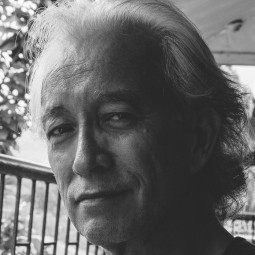 From 1975 to 1985, Don Gordon Bell was one of the many expats who then lived in the Philippines, working on some famous Hollywood Vietnam War movies as well as on some low budget pieces of exploitation cinema. Starting on screen as "just an extra", then stuntman, bit player, character actor, and eventually getting major supporting roles, Don also performed a variety of production staff jobs, casting and scripts writing. Having served with an elite unit of the US Marine Corps in combat during the Vietnam War, his Recon Marine experience notably earned him a job as the Set Production Assistant on "Apocalypse Now", teaching and directing all the extras on set. In all, Don worked on about 35 international films and 50 local films over a ten-year period, crossing the path of people like Francis Ford Coppola and Oliver Stone, as well as Cirio H. Santiago, Kinavesa regulars or bruceploitation figure Bruce Le.

This interview was made back... in July 2009 (with a little update in september 2016). But partly due to some lack of time for its translation, its publication has been delayed for an inexcusably long amount of time: seven years! All our deepest apologies to Don...

Interview conducted by John Nada
---
So far, the little we know about you come from people like Nick Nicholson, Mike Monty or Richard Harrison. Could you tell us about your background? It seems your search for identity has not been very easy...
My name at birth was given to me by my Korean mother, Jun Yong-Soo. Jun is the family name of my Korean mother and Yong-Soo means "Excellent Face". I know, what happened to you, my Korean wife asks. LOL. I was born during the Korean War, called by media a 'war child'. I use the term 'Korean War Baby'. My birth father, a U.S. soldier, came to Korea not really knowing why America was helping the Korean people. He may have been a high ranking NCO or Top Sergeant. I know that he served about four years in country, fathered two children, first me then my younger sister. It was only years later, at 38 years old, that I found this out.

My Korean mother was left with two mixed-race children. We were called "TuiGi", a pure Korean word that means "Child of the Dust or Nothingness", a derogatory slang word, used for Black/Korean 'mixed-blood' children, but also for all 'mixed-blood' children. It had another meaning, a "Child of a Foreign devil". A nicer term is Hon Hyol Ah, from the Chinese and Korean words that still have racist connotations of 'Breed', 'half-breed' or 'mixed-blood'.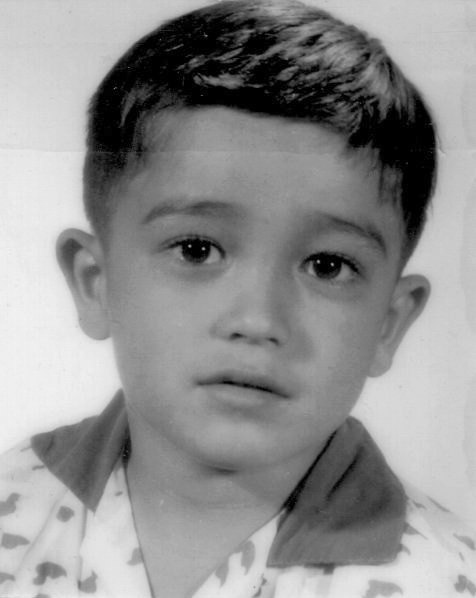 Don, aged 6.
I was born on January 25, 1952, and my sister was born on June 9, 1955, three years five months later. A woman with two mixed-race children, would have had an almost impossible task to take care of us because of the dislike, even hatred for our like, unlike some countries such as the Spanish colonies where being a mestizo (half-Spanish and local Native) was a good thing. Recently, through DNA testing, I found out that my father was of Apache, Mexican, and Spanish blood-lines. Together with my Korean bloodlines, I have a multi-ethnic mix.

Our father probably gave my mother some money and left back to his countries. I did not know or remember him, and could only guess. I never felt angry towards my birth mother because my adoptive parents, both Christian, raised us to understand my birth mother's predicament. I grew up in a typical middle-class family of English-Scottish roots in greater Los Angeles. My Adoptive Parents had taught me that being an American meant that we all were from many countries. I was told that we are adopted into God's family. Only in my mid 30's did I begin to comprehend these Christian teachings personally. You will have to read my book when I publish it in a couple of years.
Don, when he was in High School.
By High School I was ready for some action, I was very conservative and felt that Vietnamese people were so similar to my birthmother's people in Korea. They needed a chance to be free from Communism, so I knew why we had gone to Vietnam, or so I thought.
Could you tell us about your experience during the Vietnam war?
Like my father before me, I joined up to serve. I chose the Marines because I was impressed with the 'Esprit de Corps'. I was in the best unit because I did not want to be in a war zone with draftees. Uncles and cousins had served with the Marines, so it was a natural choice. I was off to the war, ready and willing to kill for God, Country, and Rock 'n Roll. I was assigned with elite Reconnaissance units of the US Marine Corps in Vietnam. 1st Recon Battalion and 1st Force Recon Company were the 'elite of the elite', the Marine's Marine. My units had one of the highest Kill Ratios (few of us, many of them: Killed In Action-78 USMC vs. 25,000 NVA/VC). I experienced some of the horrors of war, fought and killed for a good cause... my fellow Marines beside me on Long Range Reconnaissance Patrols, one of the most dangerous jobs in-country.
Since I did not know my own biological father, I tried being extra careful not to 'father a bastard', but I still took part in 'indulging in exotic women'. I took three trips to Thailand, rewards for my Recon team's having the highest number of monthly enemy sightings and kills, yes paid by the government. I discovered the special 'steam and cream' saunas, and the 'Redlight' areas full of bars and brothels, 'Streets of Passion', such as 'the Jungle' in Danang, TuDo Street in Saigon, catering to the needs of both armies, theirs and ours. Once while in a roadside brothel, my favorite Vietnamese 'boom-boom girl' suddenly whispered, 'No talk! VC, here now'. I heard several Viet Cong speaking, they had apparently arrived for their R & R (Rest and Relaxation)! I slipped out with my weapon on full auto in case, of course after first 'getting my money's worth'. Vietnam introduced me to a wild life in the fast lane. It also prepared me for the film industry several years later.
Don, serving in Vietnam.
What's the chain of events that led you from the Vietnam war to the Filipino film industry?
After getting out of the Marines, I went to college without direction or purpose. Then by fate I took a trip to the Philippines with my college roommate John R. Silao, a Filipino immigrant who came to America at 12 years old. It was late 1975, the Vietnam War movie "Apocalypse Now", starring Marlon Brando and Martin Sheen, was in preproduction and casting extras. John's cousin worked in Filipino films and told me about the casting call for foreign extras. The Local Casting Director, Ken Metcalfe, noticed my USMC tattoo on my right forearm, found out that I had served in-country, been in combat. Ten minutes later, Ken took me to met Director Francis Coppola. When Francis heard I had been with Marine Recon, in-country Vietnam, 'been shot at', and actually fired weapons in combat, I was hired immediately as a Casting Assistant for the foreign extras, at a hundred dollars a day! From just an extra, I had been promoted to Production Assistant, Local Casting Dept. First thing I did was organize the casting call by using my strong voice, speaking like a Drill Instructor, to get the rabble organized and forms filled out, I.D. photos taken, etc. I asked for anyone who had served in the Military to step forward, told the ten who did, they were now my assistants, at double pay $50 dollars a day. Everything went smoothly and Ken Metcalfe was happy to have me on board.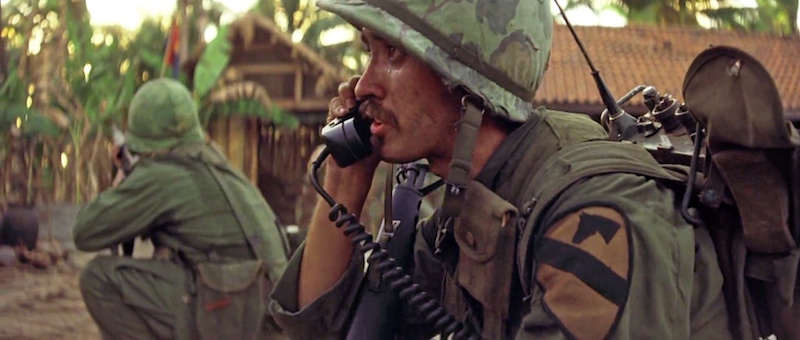 Don in "Apocalypse Now".
Later, I was the one who trained extras on weapons, safety, infantry tactics, exiting helicopters carefully but quickly, made sure they wore their uniforms and equipment correctly, hold onto their weapons for they were very valuable to communists rebels. On the whole help them to look and act like real troops at war. I am upset that I did not get on the credits as being on the Casting Dept. I have a letter from 2nd AD Larry Franco attesting to my promotion later to Set Production Assistant in charge of all extras- Ifugao, Filipino, Foreign, Vietnamese extras ON the Set. I originally went to the Philippines for a 3 week vacation, that turned into almost ten years of working in the Filipino local and international productions. It was the greatest years of my life.
Don with an Ifugao young boy.
Apocalypse Now, The Boys in Company C, Hamburger Hill, Platoon, Born on the Fourth of July etc. Most of the greatest movies about the Vietnam War having been shot in the Philippines, there were indeed some work opportunities...
During the filming of "Apocalypse Now", director Sidney J. Furie, of "Lady Sings the Blues", came visiting on the set. Ken Metcalfe introduced me to Sid as his main assistant, and both of us were hired to prepare for Sid's production, "The Boys in Company C". Shooting was due to start in the summer of 1977. Sid also met Director Francis Coppola, telling Francis, "Hello, I am also making a Vietnam War movie". Francis glanced around gesturing with his hands, with literally 2,000 extras, cast, and crew, preparing for the Hao Phat USO Show sequence.

Francis loudly exclaimed, "I AM making THE Vietnam War movie!!!" Francis stalked off with his entourage of staff. Director Sid turned to Ken and I, with a knowing smile, "Well, I'm going to get mine in theaters before he does..." Indeed, "The Boys in Company C" did come out first in theaters in the USA, summer of 1978, beating "Apocalypse Now" by a year.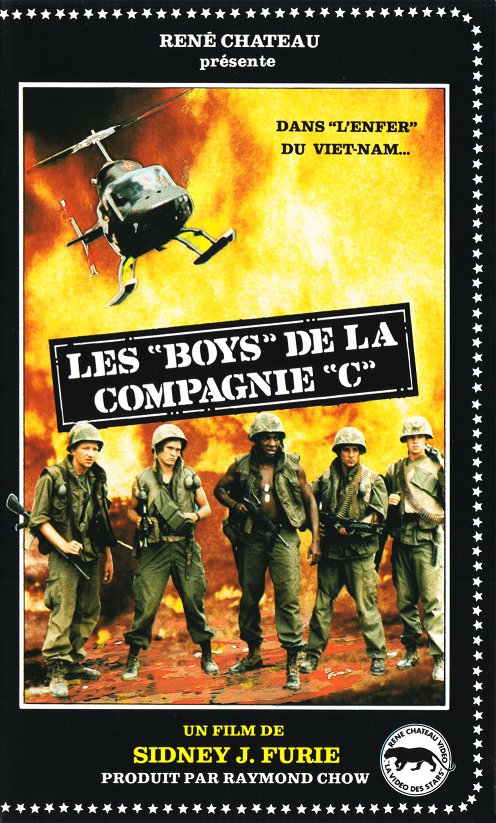 To trace your film career can be a real headache, as you are sometimes credited as "Don Gordon Bell", some other times simply as "Don Gordon" or "Don Bell", not to mention the existence of another American actor named "Don Gordon"... Could you help us clear it up?
My complete name when I was adopted was Donald Gordon Bell. When I first worked in films I just used Don Bell on "Apocalypse Now", "The Boys in Company C", and as an extra in local Filipino films, documentaries, television. Those of us that worked on both war movies now scrambled to find work on other films. I found that contacts with Filipino crew members remembered that I had worked with both films in the casting department under Ken Metcalfe. Ken also introduced me to Bobby A. Suarez where some of us got regular parts as "minor goons/bad guys".
Bobby's film with Marrie Lee of Singapore, "They Call Her... Cleopatra Wong", was one of my first "international films". At this time after a couple of years I began to use Don Gordon (my middle name) as my 'screen name'. I began telling everyone on sets that I was using this name, this was about 1978 when I "became" Don Gordon.
Don and Marrie Lee, a.k.a. "Cleopatra Wong".
In 1980 or 81, I was working on "American Commandos" a.k.a. "Hit Man" with Christopher Mitchum and John Phillip Law. When I met John Phillip and Christopher both of them were expectantly looking forward to meeting "the real Don Gordon" of "Papillon" and "Bullitt" fame! John Phillip Law said, "you ain't Don Gordon!" I replied, "Well, I am really Donald Gordon Bell, I used Don Gordon for a screen name the last five years. There is a REAL Don Gordon? Didn't know about him at all!"

Google search 'Don Gordon', The REAL DON GORDON, he was born in 1926, has a long, long film and TV career with over a hundred plus credits. I had not known of this famous supporting actor, who was a close personal friend of legendary Steve McQueen. He appeared with him in "Bullitt" and "Papillon" as a supporting character. They then told me about the "REAL Don Gordon" and I was like "Well, Fuck Me, now what do I do?" Christopher Mitchum suggested that I use Don Gordon Bell, sort of like John Phillip Law. We all thought that had a good ring to it. Thus I changed my "screen name" again, going from "Don Bell" (1976-77) to "Don Gordon" (1977-81) then "Don Gordon Bell" (1981 to present).
That's not all. Sometime late in 1981, the 'Real Don Gordon' played the elderly advisor of the Anti-Christ played by character 'Damien Thorn' in "Omen III: The Final Conflict". Hell, he had second billing, 'above the Title' credits, and all over Manila were BillBoards/flyers/advertising "Starring Don Gordon". Writers that I actually paid monthly put out that it was ME. I tried without success to deny and even had some articles written. But everyone said, "we saw you, with a beard, congratulations... When did you do the filming?" I could not convince anyone that it was not me! I finally just agreed with folks, yeah, that was me.

Hey have you noticed, several of my films were accredited to the REAL DON GORDON. I did those films, me... the impostor Don Bell/Don Gordon/Don Gordon Bell! Fair is fair I guess. I wish the Real Don Gordon could hear how he has credits for films he DID NOT shoot in the Philippines!

Soon after in 1982, Director Sid Furie came back in the Philippines to film "Purple Hearts", and HE knew me from "The Boys in Company C" as "Don Bell". So there was all sort of confusion on the Filipino film crew and staff, who all knew me as either Don Bell, Don Gordon or Don Gordon Bell!! I had to make an announcement to one and all on the set that I was to be known henceforth, as DON GORDON BELL. I still use this name as a professor of the English language, teaching at a leading University, and private tutoring of Korean students in the home of my birth mother, Republic of Korea. I never knew how much trouble all my 'name changing' would cause when films went to DVD's. I did not think it would matter outside of the Philippines. This hopefully will be the first time to clear up this mystery.
Don, working as Ken Metcalfe's Set Production Assistant on "Purple Hearts", here with Cheryl Ladd, one of the Original Charlie's Angels.
We have seen you fight in a few "kung-fu flicks". Did you have any martial arts training?
My first love of sports was martial arts, for me it was a way to identify on my Asian blood, express my Asian heritage. From the age of 10 years old I read books, studied from anyone I could to learn from. When I was 11 years old I met a Japanese kid who taught me the basics of Judo and Jujitsu for a year. One day while we were training in the park, an American soldier came up to me and asked if I was part Korean. I was surprised that he could see that in me, most people don't know the difference between various Asian people. It turns out that he had studied Tae Kwon Do six years in Korea, while he was with the US Army. He studied under Jhoon Rhee, who is the leader in introducing Tae Kwon Do to America. My Japanese friend and I began learning my country's martial art. I was one of the first in 1964 to meet Korean master Jhoon Rhee. I was able to study for the next four years. I studied every book available in those days, earning a Black Belt in Tae Kwon Do at 16 years old.
During the early '70's, many weekends I entered open tournaments, such as Chuck Norris's "Four-Seasons". Open tournaments gave the chance to fight with different stylists from Chinese, Japanese, Okinawan schools. There was no Muay Thai-kickboxing in those '60s and '70s yet but I eagerly learned everything I could. My weight put me in Light or Middle divisions at 155 lbs. (70 kg). Over the years I acquired over 45 trophies in 'fighting' and in 'forms/kata'. I was from the old school instructors who focused on the basics and promoted slowly.
Don training with Marrie Lee on the set of "They Call Her... Cleopatra Wong".
In Vietnam, I spared with Korean Marines of the 2nd Brigade 'The Blue Dragons', that I met when they trained with my unit in Long Range Recon Patrolling. The Korean Marines did not like it that a half-breed Korean 'Tuigi' like me was kicking their asses! My American instructor had also been a boxer who taught us more to develop our punching ability. One tough Korean Master Sergeant finally asked me who I had trained with, after hearing who it was, turned to the ROK Marines and explained that my teacher was the student of a TaeKwonDo legend, Jhoon Rhee. After that I was accepted by the ROK Marines as a fellow Marine and 'sort of Korean'. We drank their homemade soju and ate dog meat, kimchi, etc. whenever possible. 1st Recon Bn. trained many ROK Army soldiers from the Tiger and White Horse Divisions and Marines of 2nd Brigade known as the Blue Dragons. They were tough, effective fighters, with great leadership, and above all feared and respected by the enemy.
After my Vietnam tour, 1970-71, I was stationed in Camp Pendleton, near Los Angeles. I met a Hawaiian Marine who introduced me to Kajukenbo style. It was a Hawaiian mixture of Karate/Judo/Kempo Chinese boxing that became Kenpo Karate under Ed Parker in the early 1960's. Ed Parker was of the royal Hawaiian line and the first to bring Karate to the Mainland from Hawaii. He trained many Hollywood stars such as Robert Culp who used Kenpo on his series, "I Spy", Robert Wagner, Robert Conrad, Darrin McGavin, George Hamilton, Warren Beatty, Audie Murphy, and the most famous Elvis Presley.
Ed Parker's first black belt student was James Ibrao from Maui, Hawaii. James Ibrao later teamed up with Chinese master Jimmy Wing Woo from Hong Kong in Pasadena to develop the American Kenpo Karate Association that was dominant in the 1960's. Carlos and Doug Bunda, also from Maui, were James Ibrao's students, and I was one of Carlos Bunda's top students.
Carlos Bunda was the Light-Weight Champion who beat Chuck Norris (Middle Weight Champion) for Grand Champion title, in the 1964 Ed Parker's International Karate Championships. Bruce Lee also did his first demonstration of his "one-inch punch", and we saw Gung Fu for the first time on national TV. Under the Bunda brothers I trained for four years, and received my 1st degree Black Belt. All the Hawaiians called me "hapa-Howley" or "Half-White" as a term of friendship but in a derogatory sense.
Uechi-ryu, Crane Fist style.
It was my first major Open tournament in Brown Belt division and I won third place in the middle-weight division. I was able to win trophies from Brown and Black Belt Kumite, during the 1972-75 Tournaments in California, Nevada, Arizona, and New Mexico, even Hawaii twice. I was infamously featured in Black Belt magazine as the first to be 'knocked out' when Full-Contact events started in the mid-70's. Damn opponent kicked me with a spinning back kick, after the Referee stopped us and I was moving back to the center. He lost one point but I lost consciousness when my head hit the wooden floor. I avenged myself by continuing and won 5-3, reached the semi-finals, placing third.

When I first arrived in the Philippines I got some lessons from stuntmen on Filipino stick fighting, Escrima and Kali techniques. When I first met Chuck Norris who came to film his first "Missing in Action" he knew immediately who I was because just a few years before he saw me with the Hawaiians in Chinatown restaurants in L.A. He also remembered my instructor Carlos Bunda defeating him in the Grand Championship match.

Later, I met Mike Stone, another Hawaiian who married Priscilla Presley, widow of Elvis. Mike had an undefeated or matched record of 98 tournament wins/no draws, no losses. He came to the Philippines with director Ed Murphy, and when I introduced myself I mentioned my instructor's names. Mike asked me to work together as his assistant on two films. One of them was "Raw Force" a.k.a. "Warrior's Island" (1982), in which I also played a part as the "zombie of Musashi Swordmaster".
Don getting some make up for the part of "Zombie Musashi".
[Nanarland: Mike Stone was a renowned martial artist. He was associated with Bruce Lee and served as Elvis's personal karate teacher, deeply influencing the way the King moved on scene. He originally came to the Philippines because he was supposed to make "Enter the Ninja" with Menahem Golan, based on a story he developed. After a few days of shooting, Golan realized Mike Stone was indisputably a skilled martial artist, but not an actor at all. Eventually, Golan bumped into Italian actor Franco Nero during the Manilla Film Festival and talked him into making "Enter the Ninja". Mike Stone worked as fight choreographer, stunt coordinator and stunt double on "Enter the Ninja". Later, he also worked on "American Ninja", still for the Cannon Cie.]
Mike Stone, Don and director Ed Murphy.
Then Romano Kristoff and I met Sensei Robert Campbell, a tall Red-haired Bostonian who had an incredible history. Bob had studied Uechi-Ryu, an Okinawan Karate style in Boston, Mass. Under Sensei George Mattson for many years then travelled to Taipei, Taiwan, studied Chinese martial arts under the Taiwanese Army's WuShu as a guest of the top general. Then Sensei Campbell went to Okinawa to train at the headquarters under the top leaders of Uechi-Ryu. Sensei Campbell was the first non-Okinawan to win the championships and earned his 7th Dan Black Belt. Romano and I both trained for five years under him, learning Chinese weapons (my favorite was the long spear), Japanese Iaido (fast draw with real Katana Samurai swords), Kendo, Bo-jitsu, nunchucks (Romano was great with double 'chucks'). We had the best students from poor to rich, sweating and training together at the Manila Polo Club school, which is still open to this day.

So... yes! I had some training in Martial arts, not just 'movie stunt training' like so many others. In Seoul I have a few personal students that I train in Uechi-Ryu.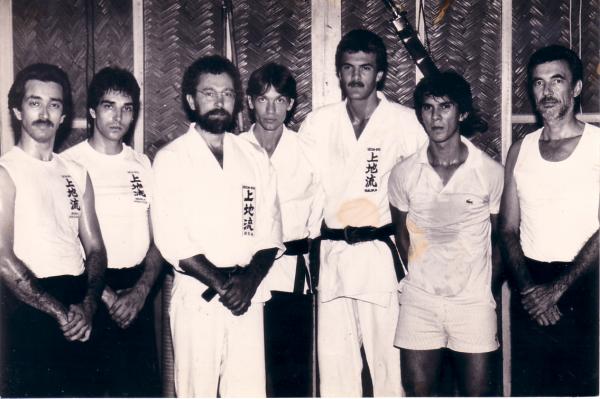 Don and Romano (on the left) with their Sensei Robert Campbell.
Did your contacts in the martial arts sphere brought opportunities?
Through Ed Parker and his Hollywood contacts I was an extra in "The Green Hornet" (1968) and "Enter the Dragon" (1973) with Bruce Lee, traveling to Hong Kong. I also appeared with shaved head in four episodes of "Kung Fu" the first television series (1972-75) with David Carradine, who I met when he came to the Philippines later in early 1980's. David came up to me at the bar in Pagsanjan Falls hotel and looked me up and down. "You've trained... what style?" I bowed slightly and told him of my martial arts lineage. Unfortunately I was deeply committed to a project called "Rescue Team" with Richard Harrison that conflicted with the film Carradine was to work on. I believe my pals Nick Nicholson and Henry Strzalkowski both worked on it.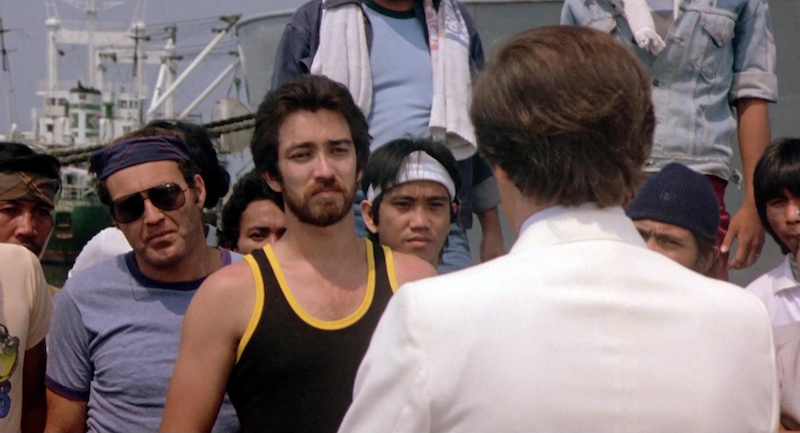 Don facing Franco Nero in "Enter the Ninja" (1981), directed by Menahem Golan.
Among the films you participated in, there are some pieces of bruceploitation like "Bruce's Five-Style Fists", "They Call Him Bruce Lee" or "Bruce's Fists of Vengeance"...
"They Call Him Bruce Lee" (1978) was the first one I did, it was a local production starring Rey Malonzo [Nanarland: sometimes credited as Rey King or Bruce Ly]. Rey was a terrific martial artist and actor, and it is him who gave me a break in my first real fighting scene in a movie. After he had seen me practicing on the side he asked me what I had studied. Soon, he and I worked out a good and long fight sequence that showed off my talent and made him look great too. Rey was very supportive and even introduced me to agents for other action directors. I guess he also realized that I was good for him because I was 'foreign' enough to be some sort of outsider who was obviously a 'type casting' against the good Filipino actor (just like Bruce Lee fighting against Japanese or Western guys like Chuck Norris or Kareem Abdul-Jabbar). Hey, this was how I did many Filipino films, not as a the main Contra-vida but the number two bad guy. See, my martial arts skills were good enough to gain contravida roles but I was an outsider in the Philippines and my "Name value" was limited to like 2nd bad guy roles. So for instance number one Villain had his top lieutenants like me, as in "Bruce's Fists of Vengeance" in which Romano Kristoff was the main bad guy and me his top henchman.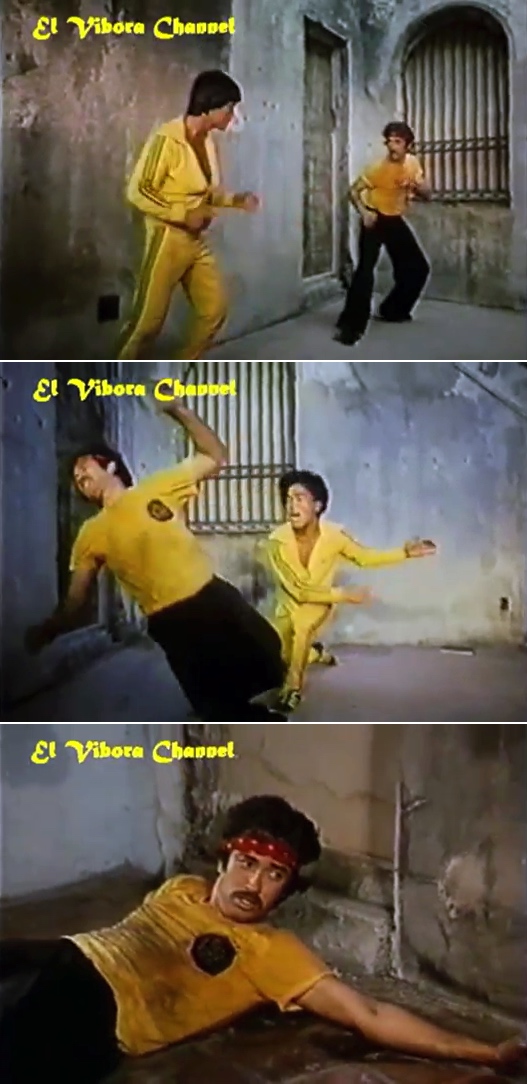 Don gets his ass kicked by Rey Malonzo in the last sequence of "They Call Him Bruce Lee" (1978).
Then, there was "Bruce's Five-Style Fists" (1978), which was, you guessed it, another film trying to fool audiences that the "Real Bruce Lee" was in it. It was actually starring Ann Villegas, Allan Shishir, Boy Fernandez, Jack Lee again and me, using my Korean name, Joon Yong Su (wrong spelling). This time, I was the main Contra-vida Lead so Jack Lee and I fought a couple of big fights. I was an "Eagle Claw Master" and after each day my fingers were so cramped I had some beautiful sweet thing giving me hand massages. "Bruce's Five-Style Fists" was written and directed by Leonardo C. Pascual and produced by Abella Pascual. Jack Lee and I were "loaned" to the Pascual producers by Mr. Lim, before "Bruce's Fists of Vengeance" (1979) was filmed with Bruce Le and Jack Lee the following year. It was sold internationally but I guess did not make it to DVD listings.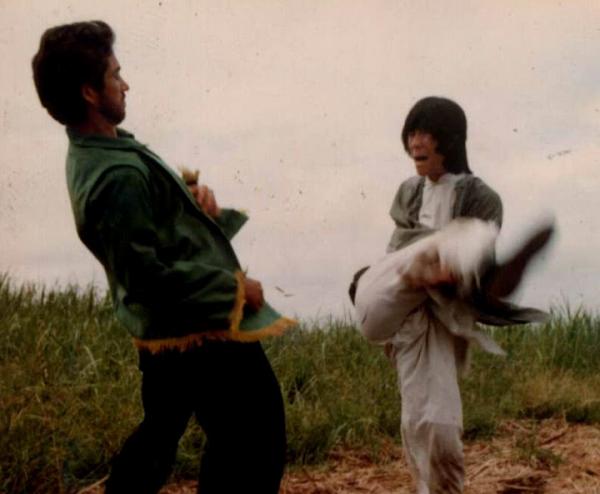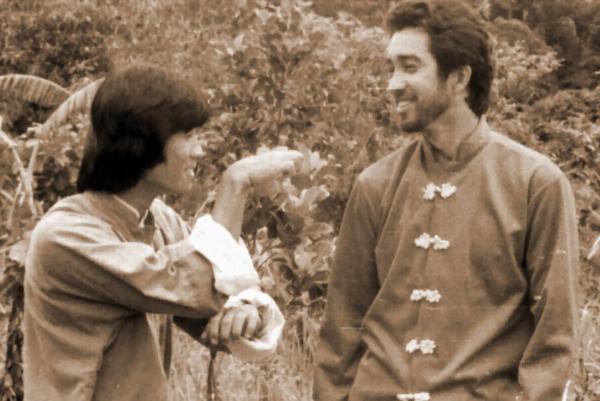 Don and Jack Lee on the set of "Bruce's Five-Style Fists" (1978).
Don, an extra, Carla Reynolds & Jack Lee.
What are your memories of Bruce Le, from "Bruce's Fists of Vengeance"?
Bruce Le was one of the best of the imitators that were coming out. He mimicked the real Bruce Lee quite well, though he was an accomplished martial artist in various Gung Fu styles, he was very skillful in mimicking the Jeet Kune Do style. Jeet Kune Do was Real Bruce Lee's own "no style style", a combination of Wing Chun, Chinese boxing, and many things that Lee picked up from other martial arts. I was very impressed with Le's skills in martial arts because I had met Danny Inosanto, one of Bruce's top students many times in Los Angeles.

Bruce Le worked with everyone to set up fights that each man could do well, often working late after a day of shooting with some of us on possible fight scenes. The director [Nanarland: Joseph Velasco, also known as Joseph Kong] and Bruce Le seemed to have worked very well together. It was the 2nd A.D. who could speak English that communicated with us most of the time. Le's English was good enough to tell us how to do fight scenes. I considered him to be the best of the imitations but a great fighter and martial artist in his own right. He knew so many different Kung Fu styles and his general ability of coordinating a fight scene with the limited ability of some untrained people was very good. He could utilize the each man according to make the scene better cinematically.

I regret that Bruce Le had to simply imitate and not innovate his own character. I would be curious to what happened to him later in his career.
Romano Kristoff, who played the main bad guy in "Bruce's Fists of Vengeance", is one of the few recurrent Western actors of that era we failed so far to get in touch with. We know he was Spanish, ex Légion Etrangère and well appreciated by everybody, including Richard Harrison who "tried to get Romano to leave Manila as he had looks and talents, but the life there seemed to be to his liking". As you were apparently his closest friend, could you tell us more about him?
Romano was more like a brother to me for many years. We shared an apartment in Makati for three years, studied with Sensei Bob Campbell, and partied at all the best parties of the rich and famous in Manila. Bob's business partner was the only son of President Marcos, BongBong, and I knew his sister Irene, but especially Imee, who was a great theater actress.

The women loved Romano. Sometimes I would go to a party and arrive before Romano, and beautiful babes would mistake me for him. He and I both had scars on our foreheads, but I was nothing compared to him in look! Romano was an "Alain Delon" type guy and I was just a regular guy who had to look and be tough. Perhaps the ladies really knew? Anyway, some beauties would slap me and chid me for not calling them, then kiss me passionately, begging me "Roman... please call me". I tried to tell them that I was NOT Romano, but what the hell, I just enjoyed it. Later, when Romano would finally arrive at the party, he would see me and say, "I don't get it, no one says hello to me tonight?", then I would tell him that everyone had already greeted ME and he would laugh.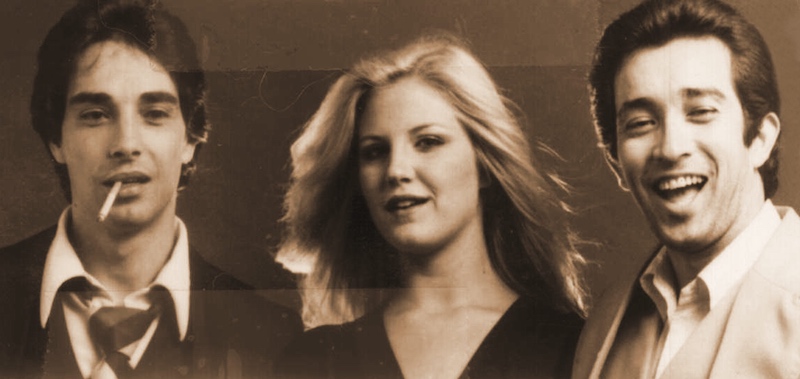 Romano Kristoff, Carla Reynolds & Don Gordon Bell.
Romano was the most likable guy to everybody. If you respected him, he was your best friend. Actually, Romano seemed a happy-go-lucky type of guy, but I have seen him change if one of his friends was in trouble. I was also a happy-go-lucky guy, but when trouble came I was the one who was 'growling lika bulldog' Romano would tell me. Many a time he cooled me down, because I was a hotheaded person who would shout in rage and challenge anyone to a fight. I was the loud, cocky type, I puffed up cursing in fury, 'got in their face' and dared them to fight. I was known as Crazy Don for several reasons. Romano could stop trouble just by his cool presence, one look from his intense eyes usually made even drunks have second thoughts. When Romano looked at someone with a serious look, THEY looked away and backed off. He was cool, but I have no doubts that he led a dangerous life in La Légion Etrangère (French Foreign Legion). A few times he and I ran into some trouble, but he and I knew each other so well we wiped out several leaders, and the rest took off. In a serious real street fight you would want Romano at your back or fighting side by side.

We did talk sometimes about my experiences in Vietnam or his in Africa with La Légion Etrangère. He knew that I loved the military history and told me that "Legio Patria Nostra" meant that "The Legion is our home". We shared stories of the valor of the US Marine Corps and La Légion Etrangère whose "Esprit de Corps" represents such brotherhood. I learned of Camerone, Mexico where in 1863 a company of 62 men held out against overwhelming odds without surrender. Sharing famous battles of both our elite forces helped to create a bond between us. I know that Romano, after several years, served in the most Elite Honor Guard unit.

In his time Romano was ready to try Europe, but he knew that he needed more experience. As much as he would try, most local producers would not give him a chance. Romano had to depend on Mr. Lim of Kinavesa for that chance. When I left in late 1985 I was certain that he would go to the next level, because he was one of several who had potential to 'go all the way'. He had great ability and potential with his looks for romantic leads and experience in combat for action. His accent was strong at first, so we worked on his English language skills. He would say curse words with a very funny accent, but with a former US Marine like me teaching him, he was soon cussing like an American. He and I would watch many films and discuss the actors, actresses, director's abilities, just about everything. Romano took it very seriously as he did everything in life, to the fullest.
Do you have any idea where Romano Kristoff might be nowadays, or what happened to him? According to some sources, he was running a restaurant in Manilla, Nick Nicholson heard he was in Brazil while others believed he got killed by gang thugs...
What I can tell you for sure is that he is NOT in Manila. Robert Campbell, the last of our mutual friends, told me Romano was off to Uruguay to find part of Former President Marco's hidden fortune! Mystery always surrounded my friend, but I think he could take care of himself. I would have loved to go with him... He has not been heard from again, and I hope that he was indeed successful and is living somewhere with several lovely babes, rich and perhaps writing his own book or movie script.

Updated on September 12, 2016: Since this 2009 interview, I made contact with Romano Kristoff through some Facebook networking with relatives, and within a month was able to meet with him in Hong Kong. We caught up with our lives. Romano has returned to Spain to see family, but with the economy so bad he returned to Asia, with notably a film project in mainland China. In fact he continued to be involved in projects in Southeast Asia, with a number of projects in tourism. He always had such a likable personality with anyone he met. He continues to be in great health and enjoying life, living the life of a debonair gentleman.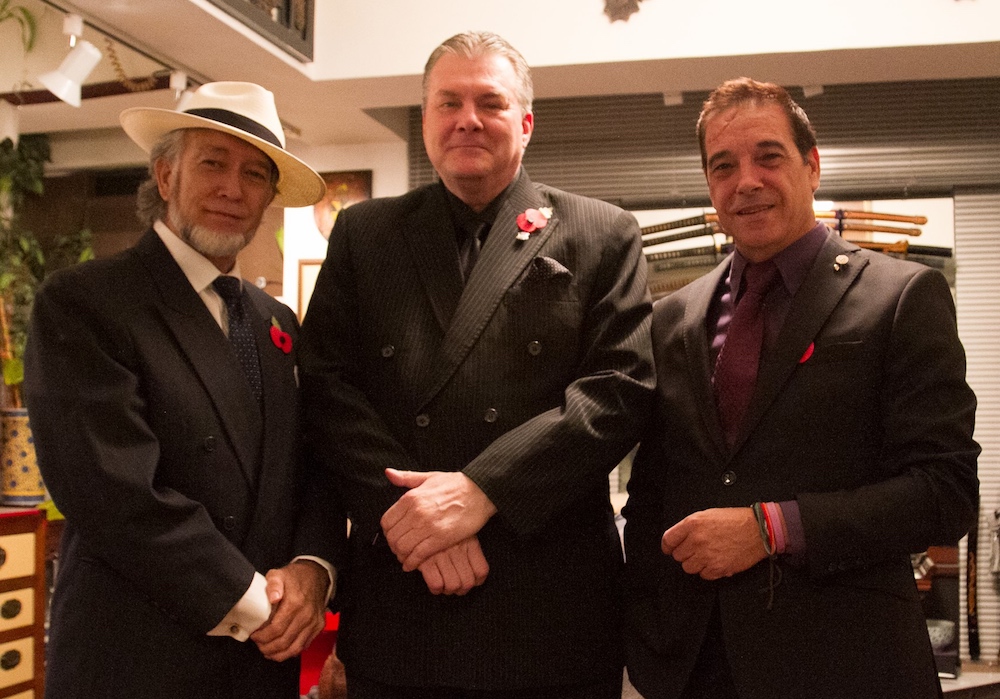 Romano and I with our friend and Uechi-Ryu Okinawan Karate master Robert Campbell in Hong Kong, circa 2014. Going that night to the prestigious Hong Kong Club.
You often worked for Kinavesa International (a.k.a. Silver Star), whose boss is Chinese businessman K. Y. Lim. We know very little about that man, who made a deal with American company Cine Excel in the 90's. Would you have any comment about him?
Mr. K. Y. Lim was the consummate Chinese businessman who always seemed to not be making money, but in reality was doing better than most thought. He was a man of many different personalities, mysterious to some, exasperating to others, but I had a long good history with him. I believe that once you had proven your loyalty, he treated you fairly, and in my own experience, Mr. Lim gave me a chance to do what others did not... expand my horizons, play better supporting roles, try my hand at writing stories, treatments, then screenplays with Bugsy Dabao at first, then later with Richard Harrison.
Don (at the center) with Richard Harrison (on the left) and Jim Gaines (on the right), on the shooting of "Intrusion Cambodia", produced by K. Y. Lim.
As I said earlier, I started on Apocalypse Now. Later, my friend Bill James Haverly and I started a Talent Agency for extras on TV and films for Local and International, as well as Advertising in Commercials, for Print, TV, and Theater ads. From 1978-81 we provided many foreign extras and models in the industry. I continued to work in films more so than my friend Bill James, who eventually went on with his Waray wife to run the agency, mainly supplying talents for the commercial advertising field.

By 1980 I was starting to be a regular with Director Cirio Santiago, Bobby Suarez and Mr. Lim, and working with the latter sure had its advantages. I was treated by Mr. Lim like an actor in the days of the Big Studios, on contract, a practice common in Hong Kong cinema as well at the time. In a general way, Mr. Lim paid low, but to us "insiders" he paid well, and he also paid us 'between projects'. The thing was, he asked me to say I was paid LESS that he gave me! Between two films for him, Mr. Lim introduced me to several other Producers such as Monteverde, Pascual, Sining Silangan. In fact, most of the Filipino films that I had guest roles in were from being 'farmed out' by Mr. Lim. I have also been in action films with Rey Malonzo, who I met through Mr. Lim too.
« I was Deputy Sheriff on "Final Mission" (1984), directed by Cirio Santiago. I tried chewing tobacco for my character but had no idea you could get so high. Someone took my beer bottle for spitting from the set. So I went with it during the shot. Sheriff was played by Kaz Garas, who tells me to get rid of the 'chew' so I had to swallow and spit out the wad of chew. After five or six 'takes' my head was spinning. »
When I met Richard Harrison, it was Mr. Lim who told me to work with Richard. Richard Harrison gave me great ideas and on "Intrusion Cambodia" he developed the main theme while I filled in the military tactics, dialog, terminology, etc. After that I got more opportunities among Kinavesa. I know that Richard Harrison was frustrated with Mr. Lim but Richard was a totally different story. I was just a beginner and had to accept what I could.
Don and Tetchie Agbayani on the set of "Intrusion Cambodia".
Mr. Lim gave me some great experience and even a monthly salary to do pre-production work, as though I was on a director's staff or a producers assistant. Of all those who worked with him, I did more in between projects because I would help develop stories, re-write scripts, break down scripts, do budgeting, location hunting, planning, overseeing the set building, and other preproduction work along with Bugsy Dabao, who was line producer and 1st A.D. I also worked with the directors who usually did films with Mr. Lim. Between the big productions I never went hungry and gained a lot of experience but did not get rich either.

I even did some editing of a few Russian films that Mr. Lim wanted cut down in length. Bill James Haverly and I took a Sergei Bondarchuk (Director of "War and Peace") film called "Retreat to the River Don" which showed the delaying action of the Russians until they reached Stalingrad. The Battle of Stalingrad was the turning point of WWII. We took the ten hours and made it into "Attack from the River Don" to show the Russian counterattack that drove the Germans out. Where could I get the chance to do that? Only with Mr. Lim of Kinavesa.
On those Kinavesa productions, Richard Harrison told us "The scripts were very contrived, and on a more than one occasion I sat down with Don Gordon and he would write while I made up a story. He wanted to be a writer, so it was with pleasure I gave him full credit." What are your memories of Richard and writing scripts with him?
Richard Harrison was to me like, well the real deal, a man who had gone to Europe and been quite successful. On our first collaboration, "Intrusion Cambodia", Richard and I would discuss the basic storyline and develop a sequence treatment, then I would type it up and we would go over dialog literally for the next couple of days shooting schedule. On the set, I pounded away on the manual typewriter I had bought, and copies were rushed to the office at the hotel where secretaries would type out extra copies for the Director, staff, etc.
Actually, we all worked together, as I would get a lot of input from other actors on creating their own character's dialog to fit personalities. I remember of at least four films with Richard Harrison that I worked with him to develop a sequence treatment into a workable screenplay. It was truly a guerrilla operation, out in the jungle, on the set with yellow pads used instead of white typing paper if I ran out!! [Nanarland: these 4 films are likely to be "Intrusion Cambodia", "Rescue Team", "Blood Debts" and "Hunter's Crossing", all shot between 1983 and 1985, with both Richard Harrison and Don Gordon Bell. At the same period, Richard Harrison did a 5th film for Kinavesa, "Fireback", but Don doesn't appear in it]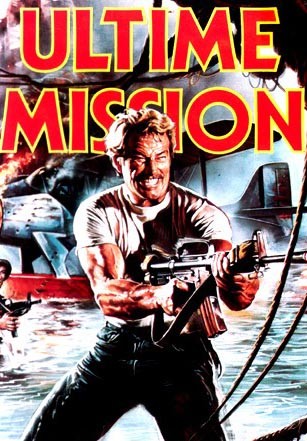 French VHS cover of "Intrusion Cambodia".
In fact, Bruce Baron told us both Romano Kristoff and you were writing scripts as well as acting, and also trying to produce. How did it go?
Romano and I did not try to produce, rather put together the whole project, more like Line Producers bringing the people together for a film. We would often discuss many different ideas that might appeal not only to Kinavesa but Regal Films or other local production companies. One production that we were actually shooting was called "War Dogs" and was about scout dogs used by the US Army in Vietnam. I wrote the screenplay with Bill James Haverly, and also played the crazy Cambodian villain. Our friend Ken Watanabe brought over a Japanese Director, Cinematographer, and Sound Man, we had built two sets, hired Filipino Crew, and were into the fourth week of shooting when the Filipino 'producer' RAN OUT OF MONEY! Sacre Bleu, he was actually running a real estate scam and thought he could raise enough to produce the film. I don't even know what happened of the footage. Well, we learned a harsh lesson but gained great experience.
With Kinavesa crews operating under a very tight schedule and budget, one would expect a strong control over the whole production process, to avoid any unnecessary expenses, meaning no "artistic freedom" etc. But with scripts being completely rewritten just before shooting, we don't know what to think...
With Mr. Lim, Romano and I were able to have free rein, but of course we had to work within his limitations on budget. One example of convincing Mr. Lim to pay more was using "Smokeless squibs" on Body Hits, and throughout the filming of "Intrusion Cambodia" and "Rescue Team". Cheap squibs had too much 'white smoke' coming out which looked really stupid. Smokeless squibs were twice the cost, but with them, no more Chinese firecracker 'effects' when we got shot!
French VHS cover of "Rescue Team".
Another thing we did was placing less blood in the front entry wound, more behind the body making it spray the "blood" onto a tree or wall. This is much more realistic, which both Romano and I knew would also be more cinematic. At first the Filipino Special Effects people thought it wasn't good, but when they saw the color prints after a test then they were convinced that it looked better.

We also tried to make firefights more coordinated, instead of ten men going down at one time from a burst of automatic fire, only half of them were "hit". This is reality and Filipino stuntmen quickly adjusted.

In addition to using expensive smokeless squibs, we did got Mr. Lim to spend more for quality military equipment, especially on "Rescue Team". In this movie, a team of Green Berets is on a mission to rescue an important P.O.W., the members of the team eventually sacrificing themselves one by one to hold off the enemy. I 'died gloriously', allowing the survivors to get back to the A-camp and prepare for the major assault. We had a great location for the base camp and spent three weeks shooting on the final battle scene - that was unprecedented for Mr. Lim!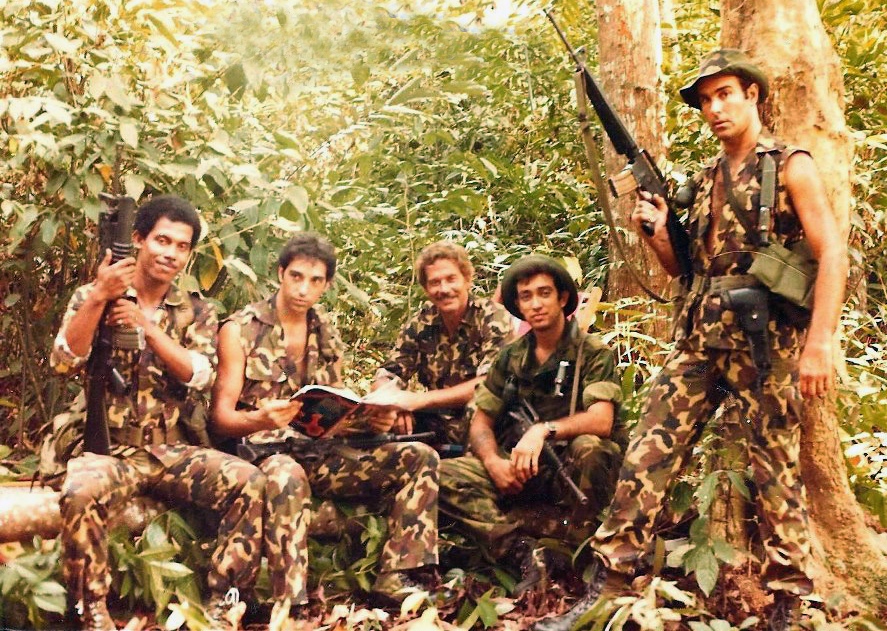 Jim Gaines, Romano Kristoff, Richard Harrison, Don Gordon Bell and Michael James on the set of "Rescue Team".
He even gave us a real Philippine Marine rifle company of 250 men for five days shooting. I worked with Romano and the Marine Major in command, discussing the attack plans. Our stuntmen would be the Montagnards, as allies of the Green Berets, and the Marines would be the VC/NVA. The Marine Major had served in Vietnam as a Lieutenant so we were 'on the same page'. So we dressed the Filipino Marines into a combined enemy force, which is what happened frequently. The VC Main Force was dressed in Khaki colored uniforms, armed with assorted weapons, AK-47s, 'captured' M-16, authentic web gear, soft covers of different kinds. The North Vietnam Army or NVA unit was dressed in dark green uniforms, with pith helmets-a red star in front, all armed with AK-47s, RPG rocket launchers that were real but with dummy rounds from Special Effects, again authentic web gear of the NVA. I challenge anyone to check the equipment of both units for authenticity, and the Philippine Marines were fantastic as the attacking forces. On defense the equally fantastic stuntmen were dressed as a Montagnard Stryker Force in Tiger stripe uniforms. They were armed with an assortment of weapons, M-1 carbines, AK-47s but mostly with M-16s, M-60 medium machine-guns, .30 caliber Browning water cooled machine-guns of WWII vintage.
Don and, on the left, Jerald Willy Williams, another familiar face of the Filipino B-Movie industry in the 80's.
The only thing missing was T-34 tanks firing on the camp, I tried to get the director to find footage from some other movie and edit it into the attack without success. The A-camp is overrun but we simulated a devastating run by "Puff the Magic Dragon", a C-130 Hercules Gunship with four Gatling-guns, called Mini-guns, firing at 6,000 rounds per minute. In that single scene, hundreds of squibs made it look like the enemy was cut down by massive firepower from 'Spooky', saving the few survivors. It was my tribute to the film "Green Berets" starring John Wayne, one of my childhood heroes. "Sands of Iwo Jima" was one of the reasons I joined the US Marines!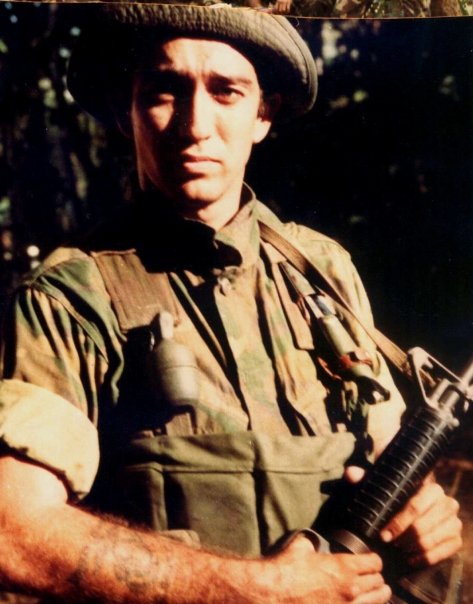 Don on the set of "Rescue Team".
It seems Nick Nicholson and you were the only ones to act intensively for both K. Y. Lim (Kinavesa / Silver Star) and Cirio H. Santiago (Premiere Productions). How did it go, and how would you compare working for one and the other?
Once Mr. Lim accepted me into his 'group', I became a regular. In 1978 I started to work on almost every film with Kinavesa. He also introduced me to other action stars and directors such as Regal Films. I felt a sense of the old days of being an actor on contract with a studio, but he freely 'shared' us to other Filipino production companies. So when I could, I accepted work with Cirio Santiago's Premiere Productions. I always tried to work with both productions during the year, and I was very lucky to be able to do it. In most cases, Mr. Lim even planned his productions between the shooting dates in order for me to do this. This allowed me to keep busy throughout the year.
On the set of "Wheels of Fire", a post-nuke movie shot in 1985 by Cirio H. Santiago.
Director Cirio Santiago gave us steady work, twice a year usually. He gave us freedom to develop our 'character roles', nodding in approval at some of the things we did to look 'special or stand out'. Some of us went to military shops and got our own complete web gear, new and old, backpacks, canteens, the works, even replica pistols that shot pellets. I made my own accessories for the "post nuclear war" type films, war and action films. I also kept different size suits and ties available for party scenes, or high class parties requiring suit and ties that no traveler would have with them. I always encouraged others to do the same if they wanted to be a professional 'character artist'.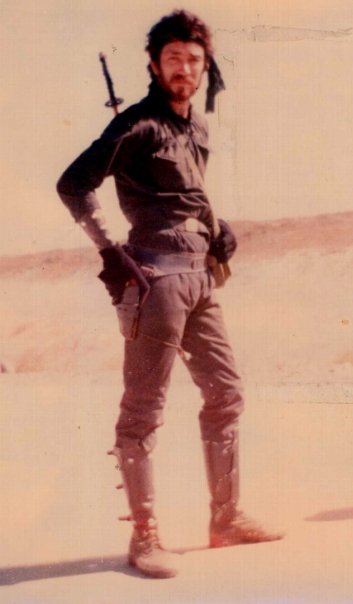 Don on the set of "Wheels of Fire".
One day, Director Cirio Santiago saw me on the set of "Stryker", preparing my costume, and told me "Hey, Babe, you make up some good characters", with his encouraging nod. I had carefully broken the right lens of a pair of sunglasses, to make it look more realistic, as it was post nuclear holocaust. The Props guy was getting angry but Cirio told him to relax. He nodded and winked in approval when he saw my wild hair, samurai sword behind my shoulder, with a .45 Colt Automatic pistol in shoulder harness which I had bought myself. Cirio asked where I got the shoulder harness and I told him I bought it myself. Then he asked me if I could ride a motorcycle, I said sure. (I actually had ridden all types of off-road dirt bikes, street bikes from 12 years old on I had owned six motorcycles). Long story short, here I am chasing the old parents of the female lead in the opening scene of "Stryker". I come speeding up on a motorcycle leading several carloads of bad guys. I slide to a stop, right up to the camera, peer over my broken glasses to find the old couple who are trying to escape me and my band. I spot them and we run them down, shooting the wife, then I decapitated the old man's head with MY samurai sword (a real blade).
Henry Strzalkowski (on the left in the background) and Don on the set of "Wheels of Fire".
Bruce Baron also told us he, Romano Kristoff and you had made some sort of an informal pact that you three wouldn't work for less than US$2,000 for a lead in one of K.Y.'s films.
I think it was Mike Monty, Romano, and Bruce that did that agreement perhaps, but it must be said that each one had his own persona, type of character, age differences, appeal, so it doesn't make sense that Romano and Mike would really mean it. You must remember that they had a long history with Mr. Lim that went back many years, where Bruce was the new guy. If you compare Bruce and Mike, Mon Dieu, there is no comparison. Mike could play any part that would be 'age relative', but Bruce was limited in "age range". He does not, in my own humble opinion, look like a Bad guy. He could not be cast in that role in the beginning, with little experience at that time, though he probably had the ability later on. Bruce had a great "Face" for a Lead Role in the genre that we 'cadre de la guerrilla des artistes' were best suited.

When I met Bruce Baron I saw some very good potential in him. Bruce seemed to some as, well, prideful even an arrogant dude from Hong Kong, but I saw someone who was confident and certainly had the looks, size, etc. that could and did indeed get him leading roles. I did not actually work with him on any films but knew with my casting experience that he could 'Make it' with experience and that he would improve with each chance. I believe that he did very well in the many films that he appeared on. I have not seen but a few but Bruce was also dedicated to improving himself. I appreciate his mentioning me in his interview, and truly regret that we did not get to work together more.
French VHS cover of "Hunter's Crossing", the only movie Don and Bruce Baron did together along with "Mad Dog".
Actually, as far as we know, it seems you never got any lead. Do you think it was because you were of Korean descent, just like Jim Gaines being confined to ethnic roles as "the Black guy"?
I have done about 50 Filipino films, about 20 were only extra and bit parts, but the rest were character roles with five days to two weeks work in the film, and I was thus credited in about 30 Filipino films, mostly action, drama, some comedy. However, my being of mixed Asian/Native American/Spanish/Mexican heritage precluded that I simply did not have the FACE for leading roles... this is the reality of show business, and I have learned to accept it. Nick, Henry, James Gaines, Willy Williams, Paul Vance, Steve Rogers, David Light, Berto Spoor, and so many others, we did our best with what we had, teaching each other to make ourselves 'stand out', to make the film more interesting and to 'sell ourselves'. I became an enabler to many, from showing extras what to do, training them to do bit parts with dialog, etc. This was my area of expertise to help others who might have a better chance than I did. It was not noble of me, "it just is, what it is", or "that is life, no?" I always tried to constantly learn more, to improve myself and show others how to improve their character roles. Perhaps it was the training under my mentor, Ken Metcalfe that gave me this understanding. I wish sometimes that I could have done more, but I did my best.
Steve Rogers, Nick Nicholson, Don Gordon Bell & Henry Strzalkowski.
Now, this being said... No Leading roles? Oh, Mon Dieu, pardonnez-moi... I actually did three, though one was just a Filipino film. So please, give me a break! Just a little respect, S'il Vous Plaît, mon ami."

As I said, I was the main Contra-vida Lead in "Bruce's Five-Style Fists" (1978), which counts for one.

My next Lead was in a comedy produced by Sining Silingan Films and entitled "Wanted: Wives!" (1979), as the leading man of Cherie Gil. Cherie Gil came from a family of actors, she was the daughter of Michael Mesa and Rosemarie Gil, and choose to use her mother's name for her screen name. I met Cherie through her brothers Michael Gil and Mark Gil because we had done several action films together.

Cherie saw me at a late night party when I, "Crazy Don" went swimming nude in the pool first, then many others joined me and jumped in also some partially or totally nude. I was always starting something, wanting to be the 'life of the party'. Cherie seemed surprised that I had not tried to try out for the Leading Man role in her coming film. I had heard about the film "Wanted: Wives" already and that they had already cast with an American that I knew. He was signed on by a rival talent agent, "Peter", who was to have a great impact on my life in 1985.

I told Cherie that I wished that I "looked more White", she laughed and asked me why? "Because they wanted someone who Looked really American, blond or red hair with blue eyes, light complexion, like the guy they had signed up." I regretted that if I had the right looks then I could have done the love scene with her. "Ay na ko, walang luck!! Oh my God, No Luck!!" Cherie thought I was so sweet for saying that and a little crazy for the skinny dipping in the pool. Two days later though, I received a call from the producer that Cherie had insisted that I be her LEADING MAN. My luck had changed!

We filmed on location in beautiful Cebu with Gina Alajar playing her cousin. Cherie's skin color is light brown, so her character thinking it would be better to send a picture of her "lighter complexioned cousin" to a Lonely Hearts Club for meeting foreign men. My character comes unannounced to Cebu and the two cousins try to fool me that Gina is really Cherie. The real boyfriend of 'Gina' blows the secret, the truth comes out and everything turns out, there is a double wedding at the end of the movie. My comment about "wishing I looked more White" made Cherie realize THAT was the theme of the comedy! Reel life imitating Real life.
Filipina actress Evangeline Cheryl Rose Eigenmann y Gil, better known as Cherie Gil.
On Filipino television shows I appeared on "Colorful World of Nora Aunor" as the boyfriend of Vivian Valdez as her "leading man". It is another 'boy meets girl through letter writing' story'. Vivian's character does not mention that she is confined to a wheelchair but when I arrive to meet her it is another 'fairy tale ending'! I have also had appearances as a character actor with Filipina actresses Gina Alajar, Alma Moreno, Susan Roces, Pilar Pilapil, Alicia Alonzo, Nora Aunor, Gloria Diaz, Vilma Santos, Lorna Tolentino, and Sharon Cuneta. Usually I was the "American Friend, boyfriend, or some Ugly American type". I do not have a complete listing of all the "bit parts" or "guest roles" that I did in the Filipino film industry. In fact I'm still trying to get copies of my Filipino films.
You also had an interesting part in Ferdinando Baldi's "Warbus"...
My role in "Warbus" (1985) was perhaps my best chance to show my acting skills in a dramatic role rather than action. It was not as a Leading Role but in the Main Cast. Italian Director Ferdinando Baldi and a small Italian crew came to do a co-production with Regal International Films. How I got the part despite being 'blacklisted' was part of the reason 'Crazy Don' was changed and found faith in a higher Being.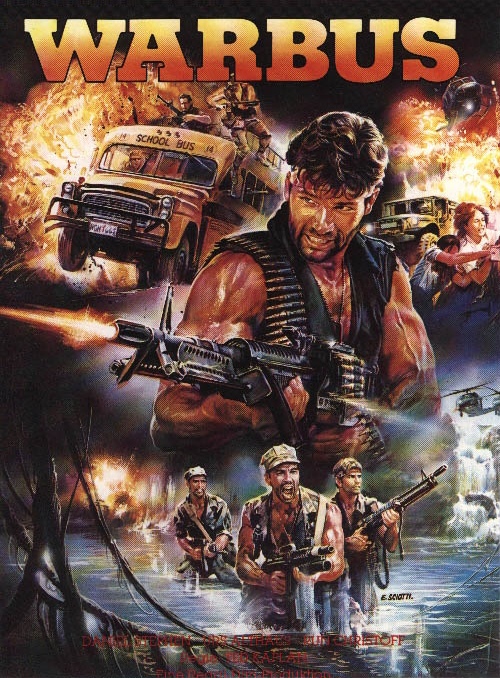 "Warbus" (1985), shot on location in Tanay, Rizal province and Laguna province.
I had just had a huge problem with "Peter", the talent agent I mentioned before. Well, "Peter" had a beautiful young Chinese-Filipina wife and she was very interested to 'play' behind his back. And I was a crazy man who loved to do kinky things, have multiple partners, traded partners with my friends, boasted that I had had STD's more times than my age. This is why Mike Monty and I were 'birds of a feather'. The Philippines has a rainbow of different ethnic beauties of every type, I sometimes said it was like the 31 flavors of Baskin Robbins Ice Cream! I had a vasectomy at 28 to not have to worry about getting anymore women pregnant. I had already 'fathered' a daughter and a son but both mother had better men to marry rather than a struggling character actor like me. Remember I was a heathen, drunken, pot smoking, sex crazed fiend back in the days of my youth. I WAS a bad boy. This is my true confessions, with Nanarland's expose' for the first time!

That being said, I did not have time to spend with "Peter"s lovely young wife that night nor any other night. I did have some professional scruples, and would always ask my friends if it was okay to have even a 'bar dancer' that they 'had been with'. 'Le Cadre de la guerilla des artistes' had rules on such things, of course. That night, I also had two local young ladies in my hotel room when she called me up. We were on location in Ilocos Norte on a Cirio Santiago film. She heard the girls and got so angry that I was 'rejecting her offer' that she called her husband "Peter" and falsely accused me of trying to entice her to my room! In the Bible Joseph, in the Old Testament, was falsely accused by Pharoah's top General Potiphar's randy wife of attempted rape and thrown into jail. Sacre Bleu! "Peter" then told the Regal Films producer that I was a 'sexual pervert who abused women and young girls' (16 was legal in the Philippines!). He said I was a 'wild, crazy man, fighting and shouting loudly when I was drunk'. He also made the accusation that I 'publicly and without fear, rolled marijuana joints and smoked hashish on the sets'; that I was an alcoholic who drank on the set, a drug pusher, a pimp, and generally a horrible scumbag of a person.
I was insulted and shocked! I never pimped!! Uh, however, most of the other accusations were very true. So because of that I lost any hope of getting a part for "War Bus". I was Black-listed by "Peter's" false accusations as the rumors spread throughout the film industry and even the news tabloids. Soon it got even worse, with NBI agents trying to perform a hit on me! Prior to that night, I had already been called in for investigations twice by policemen and National Bureau of Investigations, and twice my connections with the family of President Marcos and other highly placed friends had kept me out of jail. So when 3 NBI agents came for me at 1 in the morning, and were going to take me somewhere down south, I tried to convince them that I knew too many people, surprising them that I understood that they planned to kill me. They were talking about it in Tagalog and were shocked when I spoke to them, and demanded that they call my contact with Presidential Security Command. I was on a watch list of "friends of VIPs". You will have to read my book for the rest of the story!! But I was lucky, so they turned around and went back to their headquarters and called the Presidential Security Command. A Major of PSC came with ten heavily armed men and demanded my release. The three NBI agents confirmed later that "Peter" had paid them to kill me for less than 300 dollars! Life was cheap in the Philippines. I thought that my connections had saved me, not realizing that God was preserving me. I bragged to my friends that I would get revenge on my accuser. Then something happened!
My great friend Bugsy Dabao, who has since gone ahead to heaven, heard of my problems with "Peter". He prayed with me and told me to trust God. I knew Bugsy quite well for eight years, knew that he had some 'healing prayer' ability and was a very devout Catholic. He had taken me to see mystics and always tried to get me to say the Rosary. Bugsy knew my heart was good but I was Crazy Don. I told him, "God will have to Prove Himself to me before I can believe". You will have to read my blog to hear the rest... Bugsy prayed that God, if HE were Real would give me the part of Ronny in "War Bus". I just smiled, thinking it was impossible.

But shortly after, fortune smiled on me. First, the actor from Italy could not come! Someone up above was watching over me, though I still did not believe in God at this time. Then, director Ferdinando Baldi asked about me, the 'character actor' who had such empathy for the role. But the producer at Regal was a woman, Lily Monteverde, a Matriarch of the film industry. She had heard the very disturbing reports about me from jealous "Peter". I was just big trouble she had heard. Later, I got a call from Romano Kristoff. He told me that Director Baldi somehow persuaded Ms. Monteverde that he could find no one else who could play the part in the Philippines like me. Romano was instrumental in convincing the Director that I would not be a problem and that he would personally guarantee I would be okay. I was totally stunned, maybe there was a God?
I had to stand, in front of most of the main cast members, in the office of Lily Monteverde and swear on my life that I would not have more than 2 beers per day, not smoke or use drugs on or off the set, NOT to use foul language, curse or be loud and obnoxious, no rough behavior or fights, and lastly stay away from the female cast members! What, stay away from the female actresses! This was the reason that a certain young actress 'slept' with Romano but not with me. This was a first for me, but that was the 'conditions' that I had to agree to in order to get the part. Have you heard of such a clause for other actors? A 'no sex with other actors' clause? What we do for show business!!

When the Italian Director Ferdinando Baldi explained the character of Ronny, he said he had seen some of my films and told me I had the "Forlorn, twisted, pathetic, miserable, 'sad sack', loser, etc" character look that he wanted. I thought, oh, thanks a lot. My character, Ronny, is married to the daughter of missionaries, a wife who has taken care of Ronny's mental and health problems all through a difficult marriage. She is driven to depression and burnt out emotionally. She is ready for an affair when the Aussie SAS man shows her kindness. She cannot stand taking care of Ronny, who suffers with Acute Paranoid-type Schizophrenia. His hallucinations and delusional behavior has driven his wife crazy. Ronny has been in and out of Mental Institutions; Ronny is also a sexual pervert, a voyeur who cannot be trusted with young girls either! AND Ronny is a Symptomatic Generalized Epileptic who suffers "Grand Mal" seizures because he has run out of his medication. Well, it sounded just right for me!
In addition to looking tormented, pathetic, delusional about 'his children from a previous marriage' who do not exist except in his mind, Ronny also LOVES weapons! He has a .45 Colt Automatic pistol; a Sniper rifle with scope; two shotguns; and a M-16 Colt automatic rifle. As Ronny, I covered my USMC tatoo, like I had been wounded, because Baldi thought of Ronny as a non-military person. More like a Redneck country boy who just loved weapons, which allowed ME to do shooting action in the film.

I studied for my part by first asking our friend from Argentina, who I knew was epileptic, all about the disease, and what the symptoms were, what to do if someone had a seizure etc. He told me how to prevent injury when someone has violent, uncontrolled convulsions and might hit their head or bite their tongue. He explained how sometimes he would get a 'brief period of unconsciousness or dizziness' that would come as a kind of warning, before a "Grand Mal" seizure struck. I used this idea in the film, while I was on lookout duty, riding on top of the bus, Ronny begins beating on the roof and complaining of dizziness from the heat. Before shooting began, my Argentine friend suffered a seizure because the flashing disco lights triggered a "Grand Mal". I immediately took control and kept his head from hitting the floor, then commanded the bodyguards of our 'highly connected friends' to keep people away and give him privacy. As the seizure increased I put a rolled up cloth napkin into his mouth to prevent biting himself, remembering to loosen his clothing and make sure he could breath freely. When the convulsions subsided enough we gently carried him to a private room while he recovered. I told him jokingly that he did not HAVE to suffer a "Grand Mal" just to help me for the movie!
During the filming I had a life changing confrontation/misunderstanding with three drunk Philippine Constabularies that was just one of a chain of events that made me surrender to God and finally believe in Jesus Christ as my personal Lord and Savior. "War Bus" was to be my best role, and the rest of the year of 1985 I actually did only two other films. First was Mr. Lim's production of "Mad Dog" starring Romano Kristoff in the leading role, with me playing a supporting role. Second was "Red Roses, Call for a Girl", directed by Bobby A. Suarez, in which I had just a minor role. It was funny because Bobby asked me if I wanted to do a scene with some nude 'call girls', knowing my reputation. I told him that I could not do the scene and suggested one of the other guys. That is when many crew members came up to me and said that they had heard that I was acting real nice and 'acting like a born again believer' only because of problems with the authorities. When I turned down a chance to be with naked girls in a soft porn scene they finally believed that something had really happened to Don Gordon Bell. "He really got saved if he is refusing a scene with naked women!"
Apparently, you knew Mike Monty quite well... What are your memories of him?
Mike Monty was brought out in the Philippines by his friend Richard Harrison. Mike and I hit it off very well from the very first time we met. I think Richard Harrison knew that we "were a little crazy" about women. I was known as "Crazy Don" for several reasons but one was that I just couldn't get enough of the wonderful women of the Philippines. As you know, Mike first met me on "Pleasure Island", a soft porn shot in Manila that had a French and a German actress come over.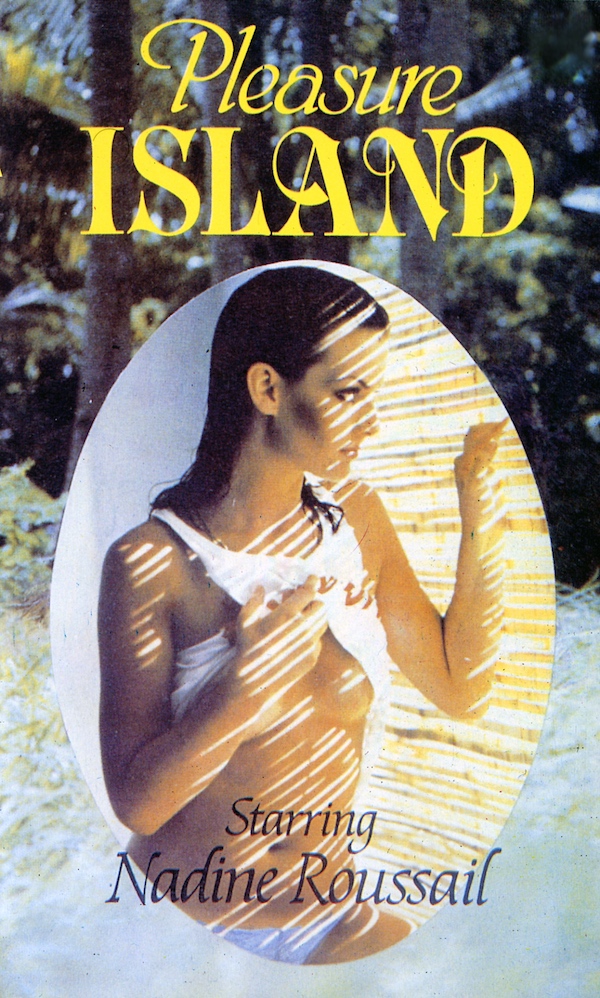 "Pleasure Island" a.k.a. "Blue Emmanuelle" a.k.a. "Isola del Piacere", directed by Michel Ricaud in 1981.
Of course many of us lined up to 'try out' and it was indeed very difficult to 'perform on the set'. My first try was with a very young Filipina who had no idea that we were not going to 'fake' it but really do it. When I was taping with her the first night, she just laid there and I was getting very frustrated with her not helping at all. I was having a difficult time getting aroused with this silly girl just laying there and not even allowing me to kiss her or fondle her. Finally, Mike got her and I, off somewhere private, and he talked to her about what she needed to do to help me. He then warmed her up and NOW she started 'working with me'. I got mine working, we got the crew back in, and finished the sequence. It was a real, uh, hard challenge. This is how Mike and I became friends. We would literally share many more women in the years we knew each other. I am the godfather of one of his sons in the Philippines.
Mike Monty, Romano Kristoff and Don, discussing the next days sequences during a shooting.
Mike loved very skinny women, many were suffering from eating disorders, such as bulimia or anorexia, but he sure made them feel loved. We lived two years in a Erimita apartment that was just bare of furniture, no dishes, not even a refrigerator. This was just after I had moved out from my partnership with Bill James Haverly. We were both barely making it for several dry months. Les Misérables Artistes for sure in that Dark period in 1981, but we always had women and just enough rice to eat at the corner eatery. We had one bed, took turns with the upper mattress when ladies would come over. Finally, the Chinese owner kicked us out when Mike hit on his daughter, or his wife, maybe both.

We were the terrors of Mabini & Del Pilar, the Streets of Passion, where it was said over 500 bars once lined every side street. One would just run down the street to the beer garden with cheap ice cold San Miguel Beer and pickup anything you wanted. Erimita was then a Den of Iniquity that I wallowed shamelessly in for years. I told you I was known as "Crazy Don", well one reason was that I had gotten STD so many times even my best friends told me I was crazy for not just staying with one girlfriend. I wanted to be like Mike in some ways, even eating ground red cayenne pepper like him because he claimed it was like an aphrodisiac (in fact, he taught me to use it to 'keep hard' but he failed to tell me to EAT it, not rub it on! That one hurt...).
In "Pleasure Island" businessmen were coming to buy pleasure. We shot scenes frolicking on the beaches of Mindoro, with tourists taking pictures as they passed in outrigger boats. My character was a Saudi Prince, and I obtained authentic headgear and robe. I had borrowed everything from a Middle Eastern restaurant but lied about using it for a commercial. I had a long beard and wore the headgear during all my shots to keep my USMC tattoo covered! When another Filipina girl came on the set with no idea of what was to come, I knew I would need a "Fluffer to help me". I called a good dancer/girlfriend from the Firehouse Bar, to come to the Hotel. I did not tell her that she would have to help me in the bathroom "to get ready and hard" then I would rush into the room and begin my scene with the useless, unsexy babe they had gotten who had no idea that we would really be having sex. One time a very hot light was knocked over, the edge actually seared my butt good, producing a great expression for the climax shot! Doing porn was quite fun and a learning experience but very weird at times, like humping over a cameraman for P.O.V. shots! I did two films of this nature that prepared me for Premiere Productions' "Naked Vengeance", in which I had similar shots. It was a rape-and-revenge movie directed by Cirio H. Santiago, where with Nick Nicholson I was one of the five rapists who are killed by a revengeful woman.
We've been told more than once that the stunt work and general shooting conditions were often quite risky in Filipino actioners. As we know you've been a stuntman yourself, would you have any personal anecdotes about it?
Doing stunts was very risky because we had no real training, it was all on the job. The first time for me was in "Ito Ang Lahing Filipino" or "The Saga of the Philippines" (1977) a television series that covered the history of the Philippines. Cirio Santiago was director for this episode. I remember being asked if I could do a high fall from two-stories, falling head first and somersaulting into a three-layer stacks of cigarette boxes with some foam rubber on top. I had seen one setup the day before and watched the stuntmen preparing the boxes carefully. When you fall into this setup (we had no Air Bags in those days) it absorbs the fall quite well. The trick was to have the willingness to do it and not make a stupid mistake.

Well, one of the stuntmen told me what to do, how to just drop the rifle after "jerking" after being hit by several hits from the good guys. I was then to just pitch forward and my momentum would take me head over heels to the center of the boxes. They told me that it would have to be in one take, and of course I was one of the last shots of the night, almost 3 AM when we finally did the take. I had practiced getting "Hits" all night and took my place. From up on the wall of Intramuros Fortress in Manila at night I could hardly "see" the top of the boxes because of the lighting. I did everything well, pitched forward and sailed into the darkness below, a loud groan covering my fear and excitement. Bam, crunch, and it was over. I remember Dir. Cirio's voice "You alright, babe?" I shouted back "I am okay, was it good for you?" Then it took the stuntmen 15 minutes to pull me out, and by the time I turned in my rifle and costume I found that the bus with extras had left without me. Welcome to show business.
Don and colleagues (among whom R. Lee Ermey, the Gunny from "Full Metal Jacket", here with grey goatee), posing in authentic costumes of 1898-1906 Filipino-American War during the shooting of "Ito Ang Lahing Filipino" (1977), a television series that covered the history of the Philippines.
So we learned on the job, doing many different 'death' scenes in various action films. On another episode of "Ito Ang Lahing Filipino" I also did a stunt on horseback, by mistake. I had been asked by Director Jose Mari Avellana if I could ride a horse. The American Calvary were part of the American-Filipino War sequence and they needed twenty men. I had ridden many times in California in the ranches that rented horses for $5 per hour. Usually the horses knew how to get rid of their inexperienced riders by going under a tree or just jumping a fence. While many of my friends had to walk back to the ranch, I always managed to stay on, but was certainly NOT a cowboy. One must stretch the truth in order to get 'a part' sometimes. "Can I ride a horse? Sure!"
We had old Polo horses, retired but rather spirited, and everything was going well until the 'Charge at the Filipino lines' sequence. The gunfire was spooking the horses so they came up with the idea of charging and firing as we twenty came up on line. Then all hell broke loose as the muskets opened fire! My horse was in the lead, and I had the reins in my teeth Rough Rider style! My pistol was in my left hand and I waved the fake Saber in my right, urging my men on. When the guns fired, my stallion had just jumped over a fence and came upon a small gully. He stopped suddenly his head down, sending me flying over his head in a somersault. I tucked my head and rolled over, hitting the ground on my back but continuing up and onto my feet. My training in judo saved me. My saber was slightly bent but the cameras were still rolling, so I raised my saber and ran up the gully towards the waiting Filipino line. I was met with a volley of black-powder blanks as a dozen muskets fired at me. Firing three shots of the revolver, then jerking like I had been 'hit' numerous times, I fell mortally wounded. I died gloriously in front of the cameras, with the other Calvary troops riding away in the background. After the shot, Jose Mari came up to me and asked with a knowing grin, "Did you plan that?" Later he recommended me for my first bit part as Private William Grayson, the US soldier who fired the first shot on the San Juan Bridge that started hostilities between the USA and the Filipino Insurgents.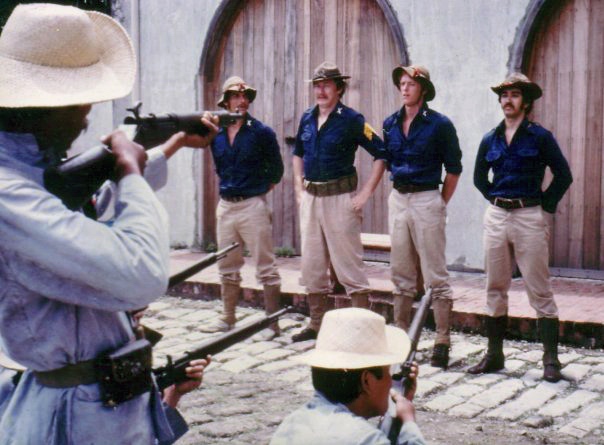 I was willing to try any stunt and practiced on and off the sets, seeking help from stuntmen who were more than willing to teach me and other foreign extras and character actors. My martial arts skills were great for movies but I had to learn "Movie stunt fighting techniques". For example you have to SLOW down fight moves so the camera lens catches everything. Camera speed is slowed down to 18 frames per second instead of the usual 24 frames and the stunt fighters must coordinate their moves. Then, when it is shown at faster speed the action is seen to be real.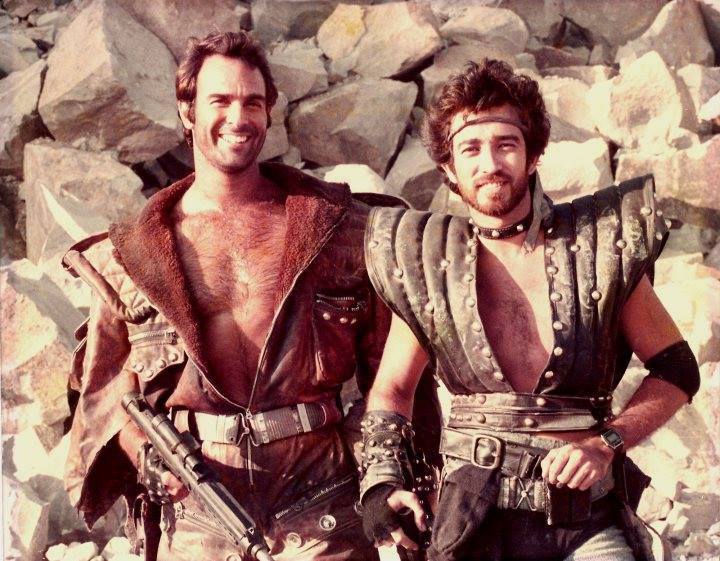 Michael James and Don in "Warriors of the Apocalypse" a.k.a. "Searchers of the Voodoo Mountain" (1985), directed by Bobby A. Suarez. Don assured us he took the watch off later before shooting!
One of my funniest stunts was for the movie "Naked Vengeance" directed by Cirio Santiago. My character Arnie was one of the five rapists of the Female Lead. Arnie worked in an ice factory and his death by the revengeful woman was to be gored by ice hooks and sent sliding down into an ice-crushing machine. I had to slide down a ramp with two huge blocks of ice behind me. The stunt men 'greased' the ramp with oil but could not get enough speed and after several attempts I came up with an idea. I saw a kid with a skateboard and 'rented' it from him. I duck-taped it to my stomach, had wardrobe sew up my uniform together and walked over to show Dir. Cirio Santiago my device. He smiled, "You thought of that? Okay, Sige, let's try it."
Dir. Cirio gave some special instructions to the stunt coordinator unbeknownst to me. On the first take, the two stuntmen shoved the ice blocks with me in front with a mighty heave. It worked so well that I was TOO fast, two camera crews could not pan quickly enough. So we went again, with a third camera added inside the "ice-crushing machine" for a view of my terrorized face going to my death. The stuntmen pushed me harder, even though I told them to take it easy, and I came rushing down toward the camera crew inside! They barely rolled out of the way as I came crashing inside, with both blocks of ice hitting me, one after another, then pinning me underneath both blocks. I could not move an inch as I heard Cirio call out, with an effort not to laugh, "You alright, babe?". Not able to move I shouted back, "No! I am NOT alright... I can't move. Did you get the shot, Direct?" He then had to laugh, as he gave the call to wrap after checking each of the camera crews. By the time they got me out from under the ice, most everyone had left the set. It was a wrap, buses had gone, and I had to hitch a ride with the camera crew.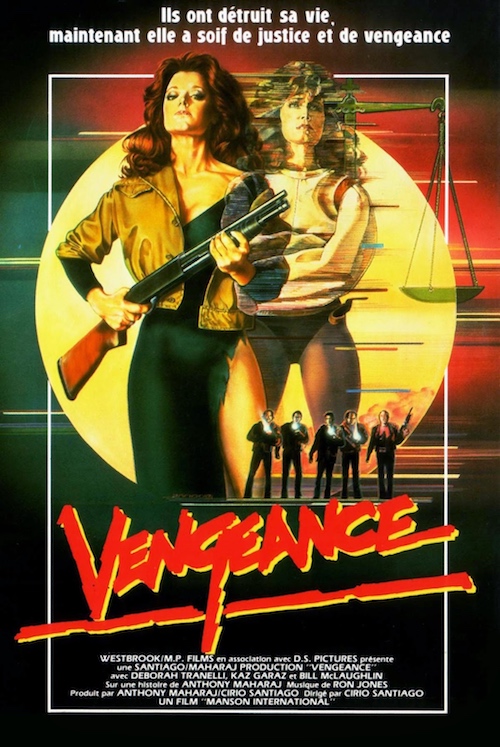 When and why did you eventually left the Philippines? What have you been doing since? Nick Nicholson told us you were an Army Chaplain during the first Desert Storm, is that correct?
In 1985 or 1986, Ken Metcalfe introduced me to director Oliver Stone and Military advisor Capt. Dale Dye, during pre-production of "Platoon". I was being considered as both on staff and for a small part when I got the news that my mother was very ill. Remember I had only established contact with my family after seven years of absolutely no word from me. I called my father and made the critical decision to return to the States. Thus I told Ken to consider Henry [Strzalkowski] and Nick [Nicholson] to be his assistants, for they had the experience and Nick the military training to do a great job. I do not regret my decision, for my life was heading in another direction.

During the first Iraq War in 1990-91, I re-enlisted into the US Army Reserves (I was too old for the US Marines). I was willing to go and serve because I had seen action, not as a chaplain, but I was in a Military Police unit. We were ready to deploy to the theater when at the last day before flying out we were informed that orders had changed. So I spent a year in the US Army Reserves but did not actually get to Kuwait. War has been much a part of my life, from my birth in Korea, teens in Vietnam and youth in the Philippines where, ironically, survivors like Romano, Nick and I, who had been under real fire, found ourselves doing films ABOUT war. Sons of Warfare, c'est la vie, c'est la guerre. But I am a man of peace!

After a couple of years I became very active in church activities. I studied to help others through counseling and prayer ministry. Over the years I saw films with my friends from the Philippines and would tell others that I was once one of 'le cadre du artiste guerrilla'. My harmonica playing led to being on several worship teams of Contemporary Christian Music, and in 1995 I went to my homeland Republic of Korea several times. Churches invited me to stay and live in the land of my birth. I have lived here since then, searching for my Korean Natural Mother with the blessings and understanding of my Adoptive Parents. I became involved with NGO's, that are helping many thousands of Korean Adoptees who are returning to learn about their homeland. I became a teacher of English, married a Korean Police Officer, and actually settled down. I appeared in several local Television shows, but nothing like my days in the Philippines. They were the best of times, and even the bad was part of being 'in the film business'. It was the greatest and most adventurous time of my life. Thank you so much, for this opportunity to share my story.
Don in Korea, in 2007.
We believe you have some request...
Oh yes, I did want to ask you to put in somewhere that the Vietnamese girlfriend I think I mention after the "Apocalypse Now" filming was finished was the mother of my son. I did not know about him (a love-child) when she suddenly received her visa and had to leave for France. Her name I can only remember as Quan Thi Nguyen, a member I was told by others of the royal Annamese family, but she remarried a French businessman familiar with Vietnam, who adopted our son. I was only 26 and a poor struggling actor, I lost contact after awhile, but Quan wrote me that he would grow up knowing my name and that I was in the film business. If by chance, by some strange coincidence of life, perhaps my son might come upon Nanarland, then we would have an interesting story. I already have had the luck of finding my daughter Mary, whom I had fathered with a Filipino actress named Susan and we expect to meet in the next year in Florida [Nanarland: in our correspondence, Don lengthly explained us how he had committed « the very offense [his] 'birthfather' had done », having a daughter, then a son, and then « 'punishing' [himself] by having a vasectomy at the age of 28 in order to prevent another bastard child by [his] acts of self-indulgence »]. Maybe this story could find its way into some other publications and , "Voila!". You see, this is the main purpose that I was so interested in your site, not for my own self-esteem, but for the small chance that my son might come across Nanarland through search engines and then make contact. I would like to meet him in this life. It would complete in some way my desires to find peace with the past 'demons, mistakes, guilts'. Thank you again.

Updated on September 12, 2016: Since this 2009 interview, my life went on. I've been living in Seoul, Rep. of Korea until my divorce in 2010. Then I returned to Manila, Rep. of the Philippines in Sept. of 2011 and soon found myself back in the game. I have done 15 Indie films as both an actor and Stills/BTS (Behind-The-Scenes) photographer. I am well-known for my previous years from 1975-85 in the local and international film-making industry. I cover all the film festivals and both local films and international films, and have earned a 'name' for myself because I know how to 'tell a story' with my shots.
Don and actor/director Mark Dacascos on the set of "Showdown in Manila" (2016).
I am semi-retired but always busy! I am teaching several students in photography techniques and always improving myself with skills. God willing I will someday do my own film, script and story, actors, director, hey! Why not? My Facebook name is Don Gordon Bell and you may find many of my FB albums on the current and past film-making done here in the Philippines. I love what we do, and will continue as long as possible. La grande vie!!!
- Interview menée par John Nada -